Un Grillo En Times Square: Revised and updated edition with foreword by Stacey Lee (Chester Cricket and His Friends #1) (Paperback)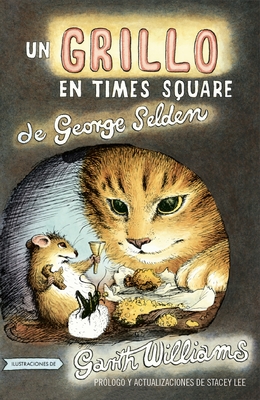 Description
---
Una versión actualizada del clásico de todos los tiempos para niños, con un ratón hábil para los negocios, un tierno gato callejero y un talentoso grillo de campo, ahora con un prólogo y revisiones de la autora de literatura juvenil, Stacey Lee.

Tucker es un ratón de ciudad con mucha calle. Pensó que lo había visto todo. Pero nunca ha visto a un grillo, lo cual no es ninguna sorpresa porque, junto con su amigo Harry Gato, Tucker vive en el corazón de la ciudad de Nueva York: la estación de metro de Times Square.

Chester Grillo nunca pensó abandonar su pradera en Connecticut. Seguiría allí de no haber seguido el cautivador aroma de un embutido y acabar en la canasta de picnic de alguien. Ahora, como todo turista en la ciudad, quiere recorrer. Y no puede haber encontrado a dos mejores guías —y amigos— que Tucker y Harry. El trío vive muchas aventuras, desde disfrutar de las imágenes y los sonidos de Broadway hasta escapar de un humeante fuego.

Chester también se hace amigo de alguien más. Es un niño, Mario, que lo rescata de un rincón empolvado de la estación de metro y lo lleva a vivir a la seguridad del quiosco de periódicos de sus padres. Al principio espera poder quedarse con Chester como mascota, pero Mario pronto se da cuenta de que el grillo es más que eso. Porque Chester tiene un talento oculto y nadie —ni siquiera el propio Chester— se da cuenta de que el pequeño grillo de campo tal vez sea capaz de enseñarles alguna que otra cosa hasta a los más duros neoyorquinos.

Un grillo en Times Square es George Selden en su máxima expresión, y las nuevas ilustraciones que complementan el trabajo ilustrativo de Garth Williams hacen de esta una edición verdaderamente excepcional.
About the Author
---
George Selden (1929-1989) was the author of A Cricket in Times Square, winner of the 1961 Newbery Honor and a timeless children's classic. Born in Hartford, Connecticut, Selden received his B.A. from Yale, where he was a member of the Elizabethan Club and contributed to the literary magazine. He spent three summer sessions at Columbia University and, after college, studied for a year in Rome on a Fulbright Scholarship. People often asked Selden how he got the idea for The Cricket in Times Square. "One night I was coming home on the subway, and I did hear a cricket chirp in the Times Square subway station. The story formed in my mind within minutes. An author is very thankful for minutes like those, although they happen all too infrequently." The popular Cricket series grew to seven titles, including Tucker's Countryside and The Old Meadow. In 1973, The Cricket in Times Square was made into an animated film. Selden wrote more than fifteen books, as well as two plays. His storytelling blends the marvelous with the commonplace realities of life, and it was essential to him that his animal characters display true emotions and feelings.

Garth Williams (1912-96) illustrated all seven of the Chester Cricket books and many other works, including Stuart Little and Charlotte's Web.
Praise For…
---
"The story of a musical cricket and his friends, a mouse and a cat of real character, who took up their abode in a Times Square newsstand...Most appealing whimsy with beautiful illustrations by Garth Williams." —Starred, School Library Journal