In Harm's Way (Young Readers Edition): The Sinking of the USS Indianapolis and the Story of Its Survivors (True Rescue Series) (Paperback)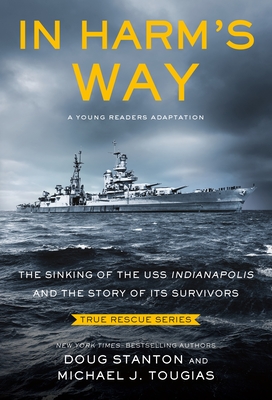 $12.99

Usually Ships in 1-5 Days
Description
---
A young readers edition of Doug Stanton and Michael J. Tougias' New York Times bestseller In Harm's Way—a riveting World War II account of the greatest maritime disaster in US naval history.

"A masterful account of one of history's most poignant and tragic secrets." —#1 New York Times-bestelling author Lee Child

On July 30, 1945, the U.S.S. Indianapolis was torpedoed in the South Pacific by a Japanese submarine. An estimated 300 men were killed upon impact; close to 900 sailors were cast into the Pacific Ocean, where they remained undetected by the navy for nearly four days and nights. Battered by a savage sea, they struggled to stay alive, fighting off sharks, hypothermia, and hallucinations.

By the time rescue arrived, all but 316 men had died. The captain's subsequent court-martial left many questions unanswered: How did the navy fail to realize the Indianapolis was missing? And how did these 316 men manage to survive against all odds?

This thrilling wartime account of heroism and survival, Book 5 in the True Rescue narrative nonfiction series, is inspiring and unforgettable—the perfect choice for young adventure-seekers.
About the Author
---
Michael J. Tougias is a New York Times bestselling author and co-author of over thirty books for adults and middle readers. His books include Fatal Forecast, Extreme Survival, The Finest Hours, Overboard!, A Storm Too Soon, So Close to Home, The Waters Between Us, and The Power of Positive Fishing. He offers slide presentations and an inspiration program titled Survival Lessons: Decision Making Under Pressure. Visit www.michaeltougias.com

Doug Stanton is a #1 New York Times bestselling author whose writing has appeared in Esquire, The New York Times, TIME, The Washington Post, and other national publications. The bestselling In Harm's Way was included in the US Navy's required reading list for naval officers. His book Horse Soldiers is the basis for the movie 12 Strong, starring Chris Hemsworth. Stanton lectures nationally and has appeared on national TV and radio. He and Anne Stanton provided an initial donation for the publication of Only 316 Survived, and founded a scholarship program benefiting grandchildren of the USS Indianapolis crew.
Praise For…
---
A 2023-2024 Florida Teens Reads Award Nominee
An Oklahoma Sequoyah Book Award

"A masterful account of one of history's most poignant and tragic secrets." —#1 New York Times-bestselling author Lee Child

"An enthralling tale of survival." —Booklist

"A nail-biting account of World War II heroism and survival." —Kirkus Reviews

Praise for the original edition of In Harm's Way:

A New York Times Bestseller
Massachusetts Book Award Winner
Michigan Notable Books Winner

"Stellar . . . A gut-wrenching story of everyday heroes." —New York Post

"A stunning book…one of the most harrowing tales of World War II…Doug Stanton takes you through every terrifying moment in a vivid and utterly memorable account."—Tom Brokaw, author of The Greatest Generation

"Infuriating, mesmerizing, and heartbreaking . . . Impossible to put down." —Rick Atkinson

"The most frightening book I've ever read." —Stephen Ambrose

"Stanton has created a war story that is part Titanic, part Stephen King nightmare." —Minneapolis Star-Tribune