George and Harold's Epic Comix Collection Vol. 2 (The Epic Tales of Captain Underpants TV) (Paperback)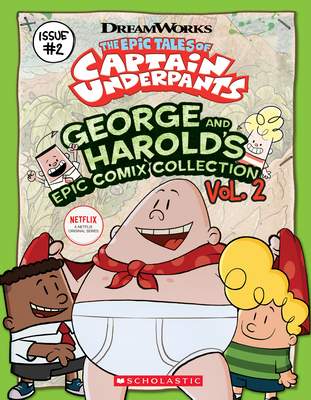 $9.99
Usually Ships in 1-5 Days
Description
---
This collection of Captain Underpants TV comics features some of the Waistband Warrior's stretchiest and most exciting bad-guy battles!
George Beard and Harold Hutchins are back with original new comic adventures starring the world-famous Waistband Warrior, Captain Underpants!
This second collection features even more of George and Harold's hilarious comix from the first three seasons of the TV show -- nearly 200 pages of comics total! Each epic adventure features a brand-new villain from the hit Netflix TV series.
About the Author
---
Meredith Rusu is the author of more than 50 children's books, specializing in titles based on television and movies such as LEGO Ninjago, Peppa Pig, and Star Wars. She is also the author of The DATA Set series under the name Ada Hopper. Meredith lives in New Jersey with her husband and two young sons who provide much of the inspiration for her writing. When she isn't working, Meredith enjoys karaoke, spending time with family, and going on the occasional adventure or two.
Praise For…
---
Praise for The Epic Tales of Captain Underpants, season 1:

"The humor is smart and silly, qualities more closely linked than adult society likes to give out... This is good, healthy stuff." -- Los Angeles Times


"Great voice acting, fun animation, and funny stories that both kids and their immature parents (like us) can get into. What more do you want in an animated series?" -- Decider


"Captain Underpants may thrive on being juvenile (its main characters are kids, after all), but it never talks down to its audience." -- The Daily Dot