Chancho el campeón (Pig the Winner) (Chancho el pug) (Paperback)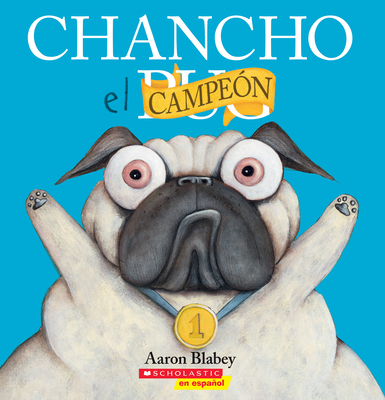 Description
---
The world's greediest pug won't play fair, and he'll do just about anything to win!The Spanish edition of Pig the Winner!Will Pig ever learn? He's an absolute cheat and quite the sore loser as well. But when Pig challenges his foot-long playmate, Trevor, to a kibble eating contest, he accidentally stuffs more than just food in his mouth. Lucky for Pig, Trevor knows what to do and saves the day!Young readers will love Blabey's irresistibly quirky illustrations that are paired with a relatable lesson about learning to play nice. For dog and pet lovers everywhere.¿Aprenderá Chancho alguna vez? Es un tramposo y un mal perdedor. Pero, cuando Chancho reta a Tomás a ver quién come más, accidentalmente termina metiéndose algo más que comida en la boca. Por suerte para Chancho, ¡Tomás sabe qué hacer!A los jóvenes lectores les encantarán las extravagantes e irresistibles ilustraciones de Blabey que acompañan esta lección sobre ser amables a la hora de jugar. Para los amantes de los animales en todos los lugares.
About the Author
---
AARON BLABEY has written many well-loved, bestselling books for children. He is the creator of three hugely successful series for children — the New York Times bestselling The Bad Guys, Pig the Pug, and Thelma the Unicorn. The Bad Guys movie released in 2022. It was produced by DreamWorks Animation with Aaron serving as an executive producer on the project.
Aaron's books have won many awards, including nine REAL Awards, an INDIE Book Award for Children's Book of the Year, a Children's Book Council of Australia — Book of the Year Award, NSW Premiers Literary Award for Children's Literature, two Australian Book Design Awards, and a Children's Peace Literature Award.