Pug's Got Talent: A Branches Book (Diary of a Pug #4) (Paperback)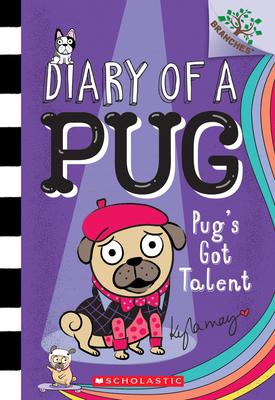 Other Books in Series
This is book number 4 in the Diary of a Pug series.
Description
---
Bub, everyone's favorite pug, and his human, Bella, are back in their fourth Branches chapter book!
Pick a book. Grow a Reader!
This series is part of Scholastic's early chapter book line, Branches, aimed at newly independent readers. With easy-to-read text, high-interest content, fast-paced plots, and illustrations on every page, these books will boost reading confidence and stamina. Branches books help readers grow!
Bub's human, Bella, is putting on a pet talent show! Bub can't wait to wow the audience with his skateboarding stunts, not to mention his snazzy costume. But when dress rehearsal doesn't go as planned, Bub finds that it's up to him -- and his archenemy Duchess the cat -- to make things right. Can he and Duchess work together to make sure the show goes on?
With full-color artwork throughout, this funny and charming diary-format early chapter book is perfect for anyone who believes a furry pal is the best kind of friend.
About the Author
---
KYLA MAY is an Australian illustrator, writer, and designer. She is the creator and illustrator of two early chapter book series: Lotus Lane and Diary of a Pug. She is also the illustrator of The Sloth Life and The Underdogs series. In addition to books, Kyla creates animation. She lives by the beach in Victoria, Australia, with her three daughters.
Praise For…
---
Praise for Pug Blasts Off (Diary of a Pug #1):
"May's cutesy, full-color cartoon art sets the tone for this pug-tastic romp for the new-to-chapter-books crowd. Bub's infectious first-person narration pushes the silly factor off the charts." -- Kirkus Reviews
Praise for Pug's Snow Day (Diary of a Pug #2):
"The full-color cartoon illustrations, especially of Bub, are adorably expressive and certain to please the age group. A strong, accessible diary story for readers seeking an adorable animal tale." -- Kirkus Reviews
"May's next title in the Diary of a Pug series is a hilarious and heartwarming tale of a dog's first snow... Readers new to chapter books will love the unique diary format and vibrant illustrations." -- School Library Journal
Praise for Pug Blasts Off (Diary of a Pug #1):
"May's cutesy, full-color cartoon art sets the tone for this pug-tastic romp for the new-to-chapter-books crowd. Bub's infectious first-person narration pushes the silly factor off the charts." -- Kirkus Reviews
Praise for Pug's Snow Day (Diary of a Pug #2):
"The full-color cartoon illustrations, especially of Bub, are adorably expressive and certain to please the age group. A strong, accessible diary story for readers seeking an adorable animal tale." -- Kirkus Reviews
"May's next title in the Diary of a Pug series is a hilarious and heartwarming tale of a dog's first snow... Readers new to chapter books will love the unique diary format and vibrant illustrations." -- School Library Journal
Praise for Pug Blasts Off (Diary of a Pug #1):
"May's cutesy, full-color cartoon art sets the tone for this pug-tastic romp for the new-to-chapter-books crowd. Bub's infectious first-person narration pushes the silly factor off the charts." -- Kirkus Reviews
Praise for Pug's Snow Day (Diary of a Pug #2):
"The full-color cartoon illustrations, especially of Bub, are adorably expressive and certain to please the age group. A strong, accessible diary story for readers seeking an adorable animal tale." -- Kirkus Reviews
"May's next title in the Diary of a Pug series is a hilarious and heartwarming tale of a dog's first snow... Readers new to chapter books will love the unique diary format and vibrant illustrations." -- School Library Journal