Owen to the Rescue (LEGO Jurassic World: Reader with Stickers) (Paperback)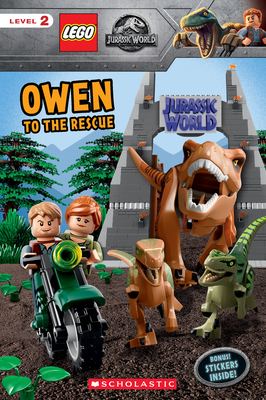 Description
---
A prequel to the animated Jurassic World told through LEGO! Includes one sheet of stickers.
An all-new exhibit is set to open in LEGO Jurassic World, and it's up to Owen and Claire to make sure it goes off without a hitch in this all-new reader with stickers!

With the grand opening of Simon Masrani's super-secret dinosaur exhibit just days away, only one thing is missing -- the dinosaurs! Owen Grady's first job at Jurassic World is to deliver the dinosaurs to the new attraction, or Simon Masrani will fire the person who hired Owen -- his new assistant, Claire Dearing.

Filled with LEGO humor and tons of great dinosaurs, this laugh-out-loud reader is perfect for fans of LEGO and Jurassic World alike!
About the Author
---
Meredith Rusu is the author of more than 50 children's books, specializing in titles based on television and movies such as LEGO Ninjago, Peppa Pig, and Star Wars. She is also the author of The DATA Set series under the name Ada Hopper. Meredith lives in New Jersey with her husband and two young sons who provide much of the inspiration for her writing. When she isn't working, Meredith enjoys karaoke, spending time with family, and going on the occasional adventure or two.