Best Wishes (Best Wishes #1) (Hardcover)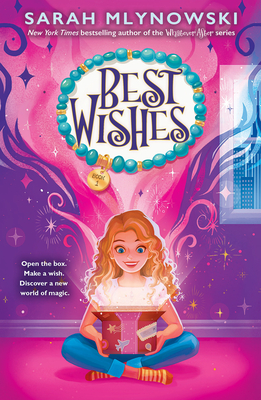 Description
---
Because you're blue
This bracelet is now for you.
Speak one wish to make it true. . .
So begins this enchanting new adventure from Sarah Mlynowski, the New York Times and USA Today bestselling author and co-author of the Whatever After and Upside-Down Magic series. Best Wishes follows a magical, wish-granting bracelet that gets shipped around the country to different girls. Think Sisterhood of the Traveling Pants meets American Girl, with stories full of humor, friendship, and irresistible illustrations. This is THE book you've been wishing for!
Optioned for film by Imagine Kids & Family!
Becca Singer is having the Worst Day Ever. Her best friend, Harper, dumped her, and Becca is totally friendless and alone.
Then the box arrives in the mail.
Inside the box? One bracelet, plus a mysterious note telling Becca to make a wish. So Becca puts on the bracelet—why not, right?—and wishes to have friends. Lots of friends. So many friends.
And just like that, the magic works. Suddenly, EVERYONE wants to be Becca's BFF, from all the kids at school to the teachers (!) to her own mom (!!).As things spin out of control, Becca starts to wonder: Is this wish a curse?
This series is perfect for fans of Whatever After, Real Friends, The Baby-Sitters Club, and all stories told with warmth and sparkle. And keep an eye out for Books 2 and 3, where the magic bracelet gets mailed to new girls with new wishes (with each book co-written by Sarah Mlynowski and a different author!)
About the Author
---
Sarah Mlynowski is the New York Times bestselling author of the Whatever After series, the Magic in Manhattan series, Best Wishes, Gimme a Call, and a bunch of other books for teens and tweens, including the Upside-Down Magic series, which she cowrites with Lauren Myracle and Emily Jenkins and which was adapted into a movie for the Disney Channel. Originally from Montreal, Sarah now lives in Los Angeles with her family. Visit Sarah online at sarahm.com and find her on Instagram, Facebook, and Twitter at @sarahmlynowski.
Praise For…
---
Praise for Best Wishes:
"Readers will love Becca... A coming-of-age tale told with humor, compassion, and more than a touch of magic." -- Kirkus Reviews
"The lively first volume in a planned series about a magical bracelet capable of bestowing a single wish [has a] brisk pace and...may well be helpful to girls ages 7-11 who are in friendship throes." ­-- The Wall Street Journal
Praise for the Whatever After series:
"Kids will race through these laugh-out-loud, action-packed, magical adventures." -- Max Brallier, New York Times bestselling author of The Last Kids on Earth series
"A dazzling gem of a series!" -- Karina Yan Glaser, New York Times bestselling author of The Vanderbeekers series
"The feminist in me adored it, and the mother in me loved how my daughter would long to cuddle in close as we read together." -- Danielle Herzog, blogging for The Washington Post
"Hilarious... with unexpected plot twists and plenty of girl power." -- Booklist
"An uproariously funny read. The swift pace of the tale and non-stop action... will enchant readers from the first page." -- Kirkus Reviews
"Giddy, fizzy, hilarious fun!" -- Lauren Myracle, author of Luv Ya Bunches
"Tons of fractured fairy tale fun!" -- Meg Cabot, author of Allie Finkle's Rules for Girls and The Princess Diaries series