To Change a Planet (Hardcover)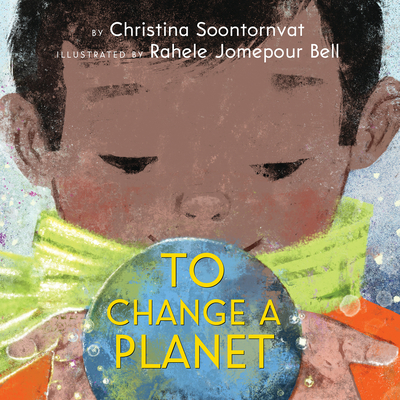 Description
---
One person.
Small, quiet,
insignificant.
But when one person,
and one person,
and one person
become many,
they can change
a planet.
Spare, poetic text and breathtaking pictures invite readers on a stirring journey that gently illuminates the causes of climate change as well as how our individual and collective actions can make the world better.
With calm, truthfulness, and beauty, To Change a Planet demonstrates the importance of caring for our planet. Eye popping explosions of color on every page create a stunning visual narrative that invites readers to find and follow the same characters through their daily lives and ultimately to a climate march on Washington, where their storylines converge.
Clear endnotes vetted by a climate expert answer a myriad of questions in simple language. Meticulously researched and brimming with hope and hands-on solutions that will edify and empower even the youngest readers, To Change a Planet is a loving ode to our only home and vital for every child, classroom, and family.
* "Earth's beauty and fragility provide the impetus for activism in this introduction to climate change…An attractive entree to a vital subject for the youngest citizens." — Kirkus Reviews, starred review
"The book's overall tone is hopeful, centered around the conviction that, just as we can exacerbate the effects of climate change, so too can we forestall and reverse them." — School Library Journal
"Has the potential to inspire all." — Shelf Awarenes
About the Author
---
Rahele Jomepour Bell is the illustrator of the picture books Our Favorite Day of the Year, Playdate, and Book's Big Adventure, and also contributed artwork to Scholastic Press's nonfiction picture book anthology In the Spirit of the Dream. Rahele immigrated to the United States from Iran in 2011 to pursue her dream of studying art at Iowa State University, where she received her MFA in integrated visual arts. You can learn more about her work at RaheleStudio.com.
Christina Soontornvat is the author of several books for young readers, including the Newbery Honor books The Last Mapmaker, A Wish in the Dark, and All Thirteen, and the bestselling graphic novel The Tryout. Christina holds a B.S. in Mechanical Engineering and a master's degree in Science Education. She spent a decade working in the science museum field, where she designed programs and exhibits to get kids excited about science and STEM. Christina lives in Austin, Texas, with her husband, two young children, and one old cat. You can learn more about her work at soontornvat.com.
Praise For…
---
* "Earth's beauty and fragility provide the impetus for activism in this introduction to climate change. In the opening and concluding compositions, Bell's gouache and digital full-bleed spreads employ a circular motif to frame and represent the book's subject. . . . Challenging concepts are conveyed simply . . . [and] suggest concrete ways for children to make a difference." — Kirkus Reviews, starred review
"In short, elegant lines of lyrical prose, Soontornvat explores the history of humanity's relationship to Earth and confronts the modern threat of extreme weather events and environmental destruction. While these passages offer a sober warning, the book's overall tone is hopeful, centered around the conviction that, just as we can exacerbate the effects of climate change, so too can we forestall and reverse them." — School Library Journal
"Soontornvat's clean, straightforward prose about the global crisis makes this alluring picture book accessible to early readers. . . . The cogency of Bell's mixed-media illustrations cannot be exaggerated. Her striking colors, rich detail and lush textures pull readers into both the planet's beauty and its devastation." — Shelf Awareness