The Horrifyingly Haunted Hack-A-Ween (The Epic Tales of Captain Underpants TV: Young Graphic Novel) (Paperback)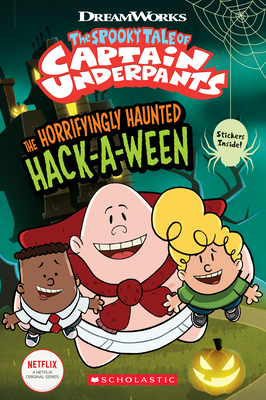 Description
---
Captain Underpants's spookiest - and stretchiest - adventure yet!
George Beard and Harold Hutchins are back in a new Halloween adventure! Piqua's biggest pranksters are getting ready for the best holiday ever - Halloween, of course. But their dreams of costumes, candy, and haunted houses go down the drain when Mr. Krupp and Melvin start a campaign to make Halloween illegal!

That's when George and Harold come up with HACK-A-WEEN, a totally legal spin-off of Halloween. But will disguises, hack-o'-lanterns, and sneak or snacking fill the pumpkin-shaped holes in their lives? Find out in this young graphic novel based on the "Hack-A-Ween" episode of the hit Netflix show.
About the Author
---
Meredith Rusu is the author of more than 50 children's books, specializing in titles based on television and movies such as LEGO Ninjago, Peppa Pig, and Star Wars. She is also the author of The DATA Set series under the name Ada Hopper. Meredith lives in New Jersey with her husband and two young sons who provide much of the inspiration for her writing. When she isn't working, Meredith enjoys karaoke, spending time with family, and going on the occasional adventure or two.