More Tall Tales: A Graphic Novel (BONE Companion) (Paperback)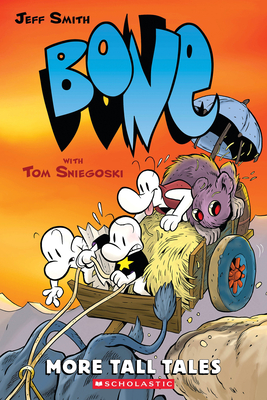 Description
---
Jeff Smith's bestselling, award-winning BONE saga returns with this hilarious companion to Tall Tales!
Smiley Bone, Fone Bone, and their Rat Creature pal, Bartleby, take a group of young scouts to a legendary landmark that the Bone cousins found when they were kids. They share stories around a campfire, spinning tales of trips to the moon, the delights of quiche, an imagined monster come to life, and an encounter with the two stupid Rat Creatures gone hilariously wrong!
This volume includes stories written by Jeff Smith and Tom Sniegoski, and illustrated by Jeff Smith, Stan Sakai, Katie Cook, Matt Smith, and Scott Brown.
About the Author
---
Tom Sniegoski is a New York Times bestselling author of more than three dozen novels for adults and children, including The Fallen, a teen fantasy series that was adapted into an ABC Family Channel miniseries. He also co-wrote, with Jeff Smith, BONE: Tall Tales, and wrote the BONE: Quest for the Spark novel trilogy. Tom was born and raised in Massachusetts, where he still lives with his wife and their French bulldog, Harvey. Visit him online at sniegoski.com.
Jeff Smith is the New York Times bestselling author of the award-winning series BONE, which is published in more than 30 countries and is among Time magazine's Ten Best Graphic Novels of All Time. BONE was a pioneer in comics publishing for kids in U.S. bookstores when it launched Scholastic's graphic novel imprint, Graphix, in 2005.
Smith's other award-winning and acclaimed comics include SHAZAM! The Monster Society of Evil, RASL, Little Mouse Gets Ready, BONE: Rose, and BONE: Tall Tales. Smith splits his time between Columbus and Key West with his wife and business partner, Vijaya Iyer, where he is working on his current project, TUKI.
Praise For…
---
Praise for the BONE series:
New York Times Bestseller
USA Today Bestseller
TIME magazine Top Ten Graphic Novel
★ "This is first-class kid lit: exciting, funny, scary, and resonant enough that it will stick with readers for a long time." -- Publishers Weekly, starred review
"Jeff Smith's BONE series... is a true accomplishment. Not only is it a terrific graphic-novel series, but it's a superb example of storytelling." -- School Library Journal
"A world full of wonder and unexpected rewards." -- The New York Times
"BONE is storytelling at its best, full of endearing, flawed characters whose adventures run the gamut from hilarious whimsy to thrilling drama." -- Entertainment Weekly
"Spectacular." -- SPIN magazine
"Jeff Smith can pace a joke better than almost anyone in comics." -- Neil Gaiman, winner of the Newbery Medal for The Graveyard Book
"Jeff Smith is one of the great pioneers of the modern all-ages graphic novel. Without BONE, much of our current library would not exist. Ask any up-and-coming graphic novelist which books inspired them, and BONE will often be mentioned at the top of their list. It definitely sits at the top of mine." -- Kazu Kibuishi, #1 New York Times bestselling author of Amulet