Monday - Into the Cave of Thieves (Total Mayhem #1) (Paperback)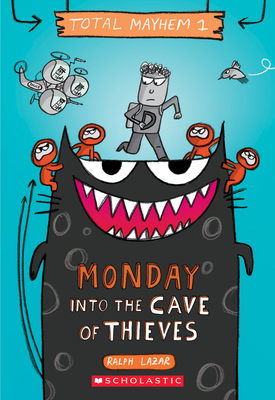 Description
---
New York Times bestselling author Ralph Lazar presents a hilarious action comedy for chapter book readers about Dash Candoo, who must defeat extraordinary foes every school day.
For Dash Candoo, every day is... DANGEROUS!
There is no such thing as a boring day for Dash Candoo.
On Monday, before he can even enjoy his cereal and wombat juice, he is attacked by a squad of combat-ready scallywags and the two-tailed Devil Cat.
And that is just before breakfast. The adventure explodes when Dash gets to school and must deal with a number of Total Mayhem Situations, including a missing Wobble-Ball trophy and the disappearance of one of the most expensive bottles of perfume in the world.
Where will it all lead?
About the Author
---
Ralph Lazar was born in Johannesburg, South Africa and studied law and economics at the University of Cape Town and the London School of Economics. After several years of working in finance, Ralph moved with his wife-to-be Lisa Swerling to a tiny tropical island in the Seychelles (population of 52), where they (very remotely) started their illustration licensing business Last Lemon. Later based in London and now northern California, they have worked with many publishers including Scholastic, Chronicle Books, Penguin Random House, and Andrews McMeel in the US, and HarperCollins and DK in the UK. Ralph and Lisa's creations include the illustrated project Happiness Is..., which has been translated into over 20 languages and has over 3 million followers online, and the New York Times bestseller, Me Without You. To learn more about Ralph's hilarious new chapter book series, visit total-mayhem.com.