Tuesday – The Curse of the Blue Spots (Total Mayhem #2) (Paperback)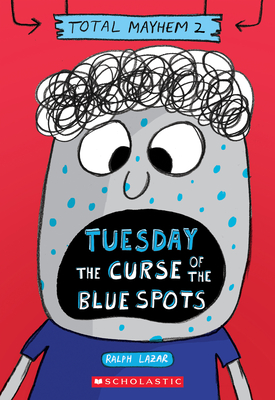 Description
---
The second book in the hilarious action comedy chapter book series from New York Times bestselling author Ralph Lazar!
For Dash Candoo, every day is... MYSTERIOUS!
Excitement is spreading through the halls of Dash Candoo's school. The Face-Pulling Championships are about to begin, featuring students holding their faces in such positions as the Vibrating Jaw-Drop with Eye-Roll and the Dripping Stare of Death.
Dash and his classmates have been getting ready for this day for ages. But then, suddenly, right before the championship, blue spots appear on everyone's faces... except for Gronville Honkersmith's face, which remains spotless.
Something very suspicious is going on here. Dash needs to act fast to get rid of the spots... or else he and his friends will be pulled from the Face-Pulling for sure.
About the Author
---
Ralph Lazar was born in Johannesburg, South Africa and studied law and economics at the University of Cape Town and the London School of Economics. After several years of working in finance, Ralph moved with his wife-to-be Lisa Swerling to a tiny tropical island in the Seychelles (population of 52), where they (very remotely) started their illustration licensing business Last Lemon. Later based in London and now northern California, they have worked with many publishers including Scholastic, Chronicle Books, Penguin Random House, and Andrews McMeel in the US, and HarperCollins and DK in the UK. Ralph and Lisa's creations include the illustrated project Happiness Is..., which has been translated into over 20 languages and has over 3 million followers online, and the New York Times bestseller, Me Without You. To learn more about Ralph's hilarious new chapter book series, visit total-mayhem.com.