Santa Shark: A Great White Christmas (Hardcover)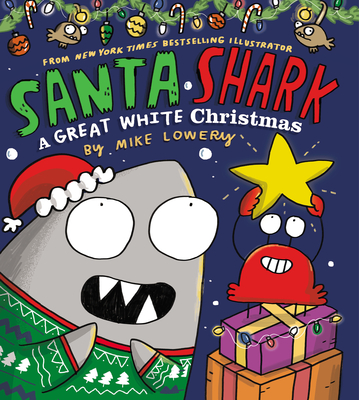 $14.99

Coming Soon - Available for Pre-Order Now
Description
---
Here's Santa as you've never seen him before -- get ready for a hilariously, fintastic underwater holiday story, from New York Times bestselling creator Mike Lowery!
Jingle shells, Jingle shells, jingle all the waves! Oh, what fun it is to dive in a sea horse-driven sleigh!
While humans may count the days until Santa Claus arrives, deep in the ocean, Edgar, a goofy, toothy young shark prepares for the arrival of Santa Shark! But Lotta, his sidekick crab pal, is not as convinced. Still, Lotta helps Edgar get his home ready. In a race against time they prepare a tasty snack for Santa, write Christmas cods to their friends, and sing Christmas corals! Will Edgar find a way to make sure everything is just right for Santa Shark's big night?
With laugh-out-loud humor, puns galore, and tons of holiday spirit, this story is sure to become an instant classic, beloved by parents and children for many holidays to come! So put up your Christmas reef and get ready to celebrate a Great White (Shark) Christmas from our New York Times bestselling and beloved creator, Mike Lowery!
About the Author
---
Mike Lowery is a New York Times bestselling illustrator who has worked on dozens of award-winning books for kids, including The Gingerbread Man Loose in the School, Mac B., Kid Spy series by Mac Barnett, How to Be a T. Rex, and many others. He's also written several books, including the Graphix Chapters Bug Scout series, Everything Awesome About series, and Santa Shark. Visit him online at mikelowery.com.
Praise For…
---
Praise for Santa Shark: A Great White Christmas:
"A shark named Edgar and crab bestie Lotta prep for Santa Shark's arrival in this goofy comic whose underwater setting proves ready made for abundant punning... all loosely inked in Lowery's characteristic style." -- Publishers Weekly
Praise for Out in the Wild!: A Graphix Chapters Book (Bug Scouts #1):
* "With swarms of goofy jokes and adorable characters, the brief chapters fly by. Readers will most certainly be willing to affirm the first line of the Official Bug Scout Oath: 'All bugs are awesome and that is a fact.'" -- Publishers Weekly, starred review
Praise for Everything Awesome About Sharks and Other Underwater Creatures:
"An immersive dunk into a vast subject -- and on course for shorter attention spans." -- Kirkus Reviews
Praise for Everything Awesome About Dinosaurs and Other Prehistoric Beasts:
* "Lowery sandwiches a populous parade of very simply drawn dinos between a history of prehistory and a roundup of diverse topics... readers will come away with a fairly sound understanding of just how dinosaurs fit into the whole history of life on this planet... A manic but solid series kickoff." -- Kirkus Reviews, starred review
Praise for Mac Undercover (Mac B., Kid Spy #1), illustrated by Mike Lowery:
A New York Times bestseller!
An Amazon Best Book of 2018
"Lowery's cartoony spot art, in black, green, and orange, provides additional historical and cultural information and frequently supports the narrative." -- The Horn Book
"Barnett and Lowery team up again in this second outing of international espionage mystery with royal overtones... this is a nifty mystery for young readers and a worthy sequel to the first." -- Kirkus Reviews
* "Barnett and Lowery bring the funny to the serious art of espionage in a perfect interplay of text and illustration... Told with a sense of nostalgia for 1980s history and pop culture, the silliness and originality of this book will hook young readers." -- School Library Journal, starred review