All About the Hogwarts Houses (Harry Potter) (Paperback)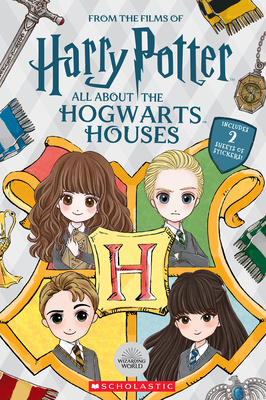 Description
---
Discover everything you need to know about the four Houses of Hogwarts in this awesome official activity book, perfect for young Harry Potter fans.
Gryffindor, Slytherin, Ravenclaw, and Hufflepuff -- together, these are the four Houses of Hogwarts. As Professor McGonagall says in the first film, "Now while you're here, your House will be like your family."
Discover everything you need to know about the Hogwarts Houses in this epic activity book with two sheets of stickers. With easy-to-read sentences and gorgeous new art, this paperback is sure to be loved by longtime Harry Potter fans and emerging readers alike. This is a great primer for a younger fan just entering the Wizarding World fandom and is also an excellent collector's piece!
About the Author
---
Violet Tobacco illustrates from her townhome north of Atlanta. She enjoys traveling her city to explore different cafés from which she can work. With a background in theatre, she has translated her enthusiasm for storytelling into illustration. Since joining the Bright Agency, Violet has had the great fortune to work with Scholastic, Simon & Schuster, Hachette, and Disney Hyperion. When she is not creating, she can be found hanging out with her three cats and cloud-shaped pup while watching animated films or playing video games. Violet loves working with other creative individuals and creating wild and whimsical worlds that help us better understand who we are.
Vanessa Moody is a Brazilian-American author living in New York, New York. She writes children's books, poetry, and opera libretti, often while eating heaps of chocolate.