Everything Awesome About: Super Sharks (Scholastic Reader, Level 3) (Paperback)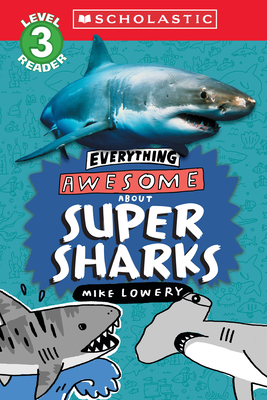 Description
---
Learn everything that's AWESOME about sharks, in this nonfiction Reader that combines cartoon illustrations and photographs!
Do you know which shark has 25 rows of backward-facing teeth? Or which shark is covered in a protective stinky slime? It's time to meet... the SUPER SHARKS!
Find out all this and more, in Everything Awesome About: Super Sharks, a one-stop shop for the shark-obsessed kid who wants to start reading on their own! With a highly visual approach that mixes kid-friendly cartoons and engaging photographs, this Reader packs in the facts and is sure to become a quick favorite for shark obsessives.
Learn the top facts about your favorite shark breeds, and everything that's awesome about the most feared creatures in the sea. This Level 3 Reader is perfect for kids who are starting to read on their own, and want to build reading confidence and develop vocabulary skills while learning cool facts about their favorite beasts.
Be sure to check out more in this series, with Everything Awesome About: Dangerous Dinosaurs!
About the Author
---
Mike Lowery is a New York Times bestselling illustrator who has worked on dozens of award-winning books for kids, including The Gingerbread Man Loose in the School, Mac B., Kid Spy series by Mac Barnett, How to Be a T. Rex, and many others. He's also written several books, including the Graphix Chapters Bug Scout series, Everything Awesome About series, and Santa Shark. Visit him online at mikelowery.com.
Praise For…
---
Praise for Everything Awesome About Sharks and Other Underwater Creatures!:
"In the wake of Everything Awesome About Dinosaurs and Other Prehistoric Beasts! (2019), Lowery spins out likewise frothy arrays of facts and observations about sharks, whales, giant squid, and smaller but no less extreme (or at least extremely interesting) sea life... An immersive dunk into a vast subject -- and on course for shorter attention spans." -- Kirkus Reviews
Praise for Everything Awesome About Dinosaurs and Other Prehistoric Beasts:
* "Lowery sandwiches a populous parade of very simply drawn dinos between a history of prehistory and a roundup of diverse topics, from what paleontologists do to sets of dinosaur jokes and A Few Kinda Weird (and Unlikely!) Dino Extinction Theories... though true dinosaurs hold the spotlight, flying and marine reptiles, early mammals, and other fabulous early fauna take such frequent star turns that along with infobites galore, readers will come away with a fairly sound understanding of just how dinosaurs fit into the whole history of life on this planet... A manic but solid series kickoff." -- Kirkus Reviews, starred review