Marvel Super Hero Adventures Buggin' Out!: An Early Chapter Book (Super Hero Adventures Chapter Books #3) (Paperback)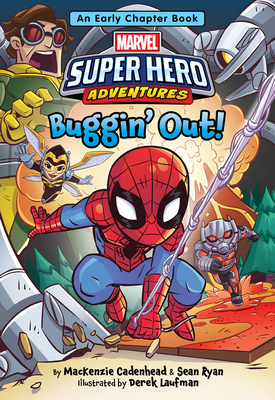 Description
---
The school-wide science fair Peter Parker (a.k.a Spider-Man) has been eagerly awaiting has finally arrived! 
Peter has always excelled at science, and after getting the boot in a basketball game earlier that day, he could use a little pick-me-up. So imagine Peter's surprise and dismay when basketball great and all-around-bully Flash Thompson shows up with a totally awesome project! 
But when the science fair is put in jeopardy thanks to the antics of one Doc Ock, Peter will need to team up with fellow 'bugz' Ant-Man and the Wasp to save the fair and the people in it- even if it means someone else walking away with the prize. 
Great things-and even bigger surprises-come in tiny packages in this third installment in Marvel's Super Hero Adventures early chapter book series. 
Features: 
Bright, colorful, kid-friendly art
Introductory comic page, priming young readers to the unique visual skill of comic book reading
About the Author
---
MacKenzie Cadenhead is a trained dramaturg and former editor for Marvel Comics. She is the author of the middle grade fantasy novel, Sally's Bones, and of the young adult science fiction thriller Sleeper. She lives in New York with her family and if she could have any super power, she'd definitely go with super-strength.
Sean Ryan has worked in the comic book industry for over a decade, having worked for Marvel and DC Comics. Currently, Sean lives in Los Angeles, CA writing comics for a variety of publishers, including New Suicide Squad for DC Comics, which debuted at number four on New York Times Bestsellers List for Paperback Graphic Books. If he could have any super power, he'd have to go with flight.
Derek Laufman is a professional artist located in London, ON. He's worked with Table Taffy Studios and is the co-founder of Halfbot, an independent game studio responsible for smash hits such as The Blocks Cometh and Super Crate Box iOS. Super Hero Adventures Early Chapter Books is his first series with Marvel Press/ Disney