Eoin Colfer Artemis Fowl: The Graphic Novel (Hardcover)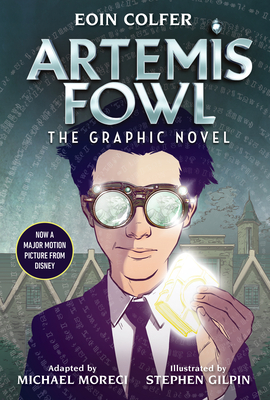 Description
---
The internationally best-selling novel by Eoin Colfer, now a movie on Disney+, is available as a full-color graphic novel with all-new text and artwork.
In 2001, audiences first met and fell in love with a twelve-year-old criminal mastermind named Artemis Fowl. Since then, the eight-book series about his adventures has sold over twenty-five million copies throughout the world. 
To coincide with the movie now on Disney+, here is an all-new graphic novel adaptation of the book with crisp, accessible storytelling and clear, cinematic perspectives. 
Readers of all ages can now follow the siege at Fowl Manor between Artemis and the fairies in action-packed, full-color panels.
About the Author
---
Eoin Colfer is the author of the New York Times best-selling Artemis Fowl series, which was adapted into a major motion picture from the Walt Disney Studios. He also wrote the critically acclaimed WARP trilogy, and many other titles for young readers and adults, including Iron Man: The Gauntlet, Airman, Half Moon Investigations, Eoin Colfer's Legend of . . . books, The Wish List, Benny and Omar; and Benny and Babe. In 2014, he was named Ireland's laureate for children's literature. He lives with his wife and two sons in Dublin, Ireland, where he is working on an Artemis Fowl spin-off novel, The Fowl Twins.
To learn more, visit www.eoincolfer.com. He is also on Twitter and Instagram @EoinColfer.
Michael Moreci is a bestselling comics author and novelist. His novels include Black Star Renegades and its sequel, We Are Mayhem. In the comics world, he's created numerous critically acclaimed original titles (Wasted Space, The Plot, Curse) and has written for many established universes (Star Wars, Archie, Stranger Things). Michael lives in Oak Park with his family. Follow him on Twitter @MichaelMoreci.
Stephen Gilpin is the illustrator of more than thirty children's books, including Volume 2 in the Wires and Nerve graphic novel series based on Marissa Meyer's Lunar Chronicles. He currently parks his bicycle in the metropolis of Gas, Kansas where he hangs out with his family, works and wonders who that nice three-legged dog belongs to. Visit his website at www.sgilping.com
Praise For…
---
PRAISE FOR THE ARCTIC INCIDENT

"The world that Colfer creates is as vivid and fantastical as any shire, Gotham, or galaxy far, far away in recent memory."—Entertainment Weekly (grade A-)

PRAISE FOR THE ARCTIC INCIDENT

"A cracking good read."—Publishers Weekly

PRAISE FOR THE ETERNITY CODE

*"Agile prose, rapid-fire dialogue and wise-acre humor ensure that readers will burn the midnight oil to the finish."—Publishers Weekly (starred review)

PRAISE FOR THE ETERNITY CODE

"The kid's still got it . . . Harry had better watch his back."—Entertainment Weekly (grade A-)

PRAISE FOR THE OPAL DECEPTION

"This book is magical."—The Washington Post

PRAISE FOR ARTEMIS FOWL

"Will grab your interest, no matter what your age."—The New York Post

PRAISE FOR ARTEMIS FOWL

"Kids will absolutely love it."—Diane Sawyer, Good Morning America