Part of Your World: A Twisted Tale Graphic Novel (Paperback)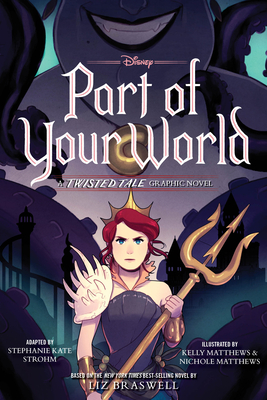 Description
---
What if Ariel had never defeated Ursula? Discover a new side of The Little Mermaid in this darkly romantic reimagining of the classic Disney film—now available as a graphic novel!

Five years ago, Ariel defied her father, King Triton, and traded her voice for the chance to meet Prince Eric. But when Ursula attacked and defeated Ariel, the sea witch took everything: the little mermaid's voice, her prince, and her father's life. Now, Ariel rules as the silent queen of Atlantica, while Ursula, disguised as a beautiful human woman, runs Prince Eric's kingdom on land.

But when Ariel discovers that her father might still be alive, she finds herself returning to a world—and a prince—she never imagined she would see again.

On land, Ariel learns that Ursula has been making the most of her role as princess: plotting, scheming, and waging outright war with neighboring kingdoms. And after Ursula catches wind of Ariel's resurfacing, she threatens to obliterate both land and sea. Will Ariel be able to overthrow the murderous villain bent on destroying her home—along with the world she once longed to be a part of?

In this adaptation of one of the most popular books in the New York Times best-selling Twisted Tale series, brilliantly adapted by Stephanie Kate Strohm, illustrator duo Kelly and Nichole Matthews breathe new life into this story of power, love, and a mermaid's quest to reclaim her voice.
About the Author
---
Stephanie Kate Strohm is the author of Twelfth Grade Night (Arden High #1); Once Upon a Tide: A Mermaid's Tale; Prince in Disguise; Love à la Mode; It's Not Me, It's You; The Date to Save; and That's Not What I Heard. She lives and writes in Los Angeles. You can find her online at www.StephanieKateStrohm.com and on Twitter and Instagram @StephKateStrohm.

Kelly and Nichole Matthews are twin sisters (and totally not four cats in a trench coat, they swear!) who work as a comic art team and live north of the Emerald City with their pet overlords. They've worked with Boom! Studios, The Jim Henson Company, Random House Graphic, and Riot Games to create comics for all ages and genres, including R.L. Stine's Just Beyond series (now on Disney+), graphic novel adaptations of Mary Pope Osborne's The Magic Tree House series, and more.
Praise For…
---
A graphic adaptation of an entry from the popular Twisted Tale series that reimagines Disney fairy tales. Basing her work on Braswell's 2018 novel of the same name that remixes "The Little Mermaid," Strohm presents readers with a cinematic, full-color graphic novel that ponders what might have happened if mermaid Ariel had never defeated the nefarious sea witch Ursula. Rather than having a fairy-tale wedding to Prince Eric, Ariel is made to serve her undersea home, Atlantica, as its queen after her father, King Triton, bargains himself away to save her. When Ursula, now living on land as Eric's wife, Vanessa, puts his kingdom at risk with her evil aspirations, he and Ariel must find a way to expose her and put an end to her conniving machinations. This graphic interpretation is captivating in its own right: Fans of the classic Disney film should be delighted with the highly recognizable characters and the visually stylish format culminating in a happily-ever-after. Panels burst to life with bright action sequences working in concert with evocative facial close-ups, keeping the pages flying with swooning eyes and a race to beat the clock as Ursula's powers grow. As this closely follows the Disney original, expect some chauvinism and fatness signaling evil. Main characters read White. Great fun for aficionados of the film. (Graphic fantasy. 12-16)- Kirkus (Apr 15, 2023)

Gr 6-10–In this adaptation of Braswell's novel, the curtain opens on a play reiterating the original Disney version of The Little Mermaid. After the play ends, with Ursula by Prince Eric's side, we return to Atlantica, where a voiceless Ariel was made Queen. Now she, her love, and friends must save King Triton and protect the peoples of land and sea from the witch's plans. This "Twisted Tale" injects a bit of reality into the fairy tale. Gone is the sweet, naive mermaid, for the fallout of her failure produced a more disillusioned and mature Ariel. Even in a broader sense, things like depression and war are a reality and yet, it is still tempered in tone, content, and art to fit Disney's brand. Stylistically, the characters are recognizable next to their movie counterparts, but again have a more grounded look; Ariel's body type and clothing suit modern sensibilities better. Strohm and the illustrators retain the main points of the novel and only make minor changes—not all beneficial—for the condensed format. Readers who enjoyed the overall idea of the film, but disliked its shallow aspects, will much prefer this version. Rather than changing the full story, the creators inserted a satisfactory redemption arc and a relationship with more genuine foundations. VERDICT A solid adaptation worth getting for the popular name and updated societal views.–Rachel Forbes- SLJ (June 1, 2023)