What Jobs Could You Do? (Paperback)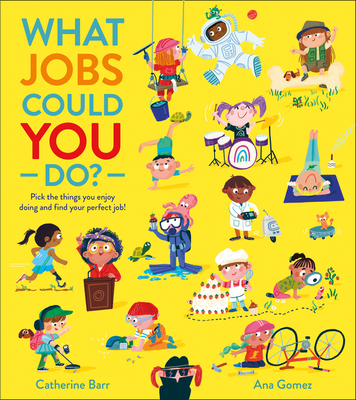 Description
---
You Choose meets Richard Scarry's What Do People Do All Day?
Pick your perfect job by choosing from things you LOVE to do. Whether you want to make things, draw, write, be in charge, get messy, help people, solve mysteries, discover new things, be outside, work with animals, numbers or machines, or do something loud or quiet, there's something for everyone
So if you decide you want to be outside, then a surfing coach, conservation worker, photographer and tree surgeon are just some of the brilliant jobs you could choose. Or if you love working with numbers then perhaps a robot scientist or video games developer would suit you more? Whatever you enjoy, there's something for you
In this interactive and inspiring picture book for children aged 3+ years, jobs are arranged by interests, making it really accessible and engaging. The busy, charm-filled spreads show children 'at work' in an intriguing range of occupations. And it encourages creative thinking and aspiration in an empowering, inclusive way.
About the Author
---
Catherine Barr studied ecology at Leeds University and trained as a journalist. She worked at Greenpeace International for seven years as a wildlife and forestry campaigner and has a long-running interest in environmental issues. While working as an editor at the Natural History Museum, she researched and wrote two major summer exhibitions. Her previous books include How Colour Works, The Story of Life, 10 Reasons to Love ... and Red Alert! Ana Gomez studied fine art at Salamanca University, but was always looking for a way to express the ideas and little characters in her head. Illustration was that door and now her drawings spread the humour and joy she feels inside. Ana draws lots of pencil sketches and then works them up digitally. She lives in Madrid, Spain.