Ronan Boyle and the Bridge of Riddles (Ronan Boyle #1) (Hardcover)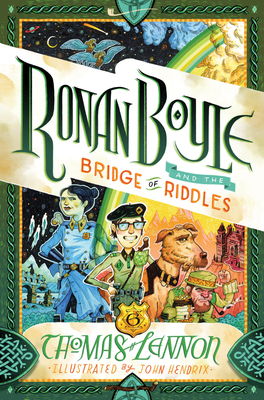 Description
---
Discover a world of law-breaking leprechauns and sly faerie folk in the instant New York Times bestseller from actor and writer Thomas Lennon!

Fourteen-year-old Ronan Boyle is the youngest and lowliest recruit to the secret Garda, an Irish police force that handles the misdeeds of numerous magical creatures. Ronan's parents are in jail, but Ronan is convinced that they were framed by the wee people. So, despite his small size, poor eyesight, and social awkwardness, he's determined to learn all he can in the Garda in order to prove his parents' innocence. To show he's got what it takes, he'll have to confront a fiery leprechaun, a sinister harpy, and a whole world of monsters hidden in plain sight next to real-life Ireland. Fast paced, action packed, and completely hilarious, this is the start to an exciting new middle-grade series by actor and writer Thomas Lennon.

About the Author
---
Thomas Lennon is a writer, comedian, and actor who has worked on dozens of movies and TV shows, including Reno 911! and Night at the Museum. Lennon lives in Los Angeles with his wife, the actress Jenny Robertson, and their son, Oliver.

John Hendrix is a New York Times–bestselling illustrator and author of many children's books, including Shooting at the Stars, Miracle Man, and his latest, The Faithful Spy. He is chair of design in the Sam Fox School of Design & Visual Arts at Washington University in St. Louis.
Praise For…
---
"Perhaps the finest children's novel of all time (in the ever-burgeoning leprechaun crime-drama sub-genre). Equal parts JK Rowling and Douglas Adams, which, y'know… ain't a bad thing."

— "Weird Al" Yankovic

"The Ronan Boyle books are ridiculously funny. Like, Douglas Adams and Terry Pratchett funny. I was laughing hysterically while reading them. My kids were laughing hysterically. My dog might have even been laughing hysterically while listening to us read it. (At least at the parts that involved dogs, of which there are a good number.). And in addition to being funny, the books are chock-full of adventure and excitement, with stereotype-defying werewolf, leprechauns and unicorns thrown in. They're a tremendous joy to read from the first page to the last. Especially the part with the snakes."
— Stuart Gibbs, New York Times bestselling author of the Spy School series

"A touching, funny read for smart kids young and old. Flat-out laughed out loud!"
— Patton Oswalt

"Actor/screenwriter Lennon (the Night at the Museum series) makes a spirited debut with this mythology-laden tale . . . the memorable voice and playful sensibility make this an entertaining series opener."
— Publishers Weekly

"As flavorful as the strongest Irish stout."
— Kirkus Reviews

"Delightfully absurd."
— The Bulletin of the Center for Children's Books

"The main thing that readers ages 10 to 15 will want to know about "Ronan Boyle and the Bridge of Riddles" (Amulet, 286 pages, $17.99) is that it's extremely funny. Styled as a personal journal and set in a magical Irish subculture, Thomas Lennon's caper starts out in a state of wild high humor and never really lets up. Featuring exuberant artwork by John Hendrix and humorous footnotes ("Trolls eating children is really just nature's lint catcher—filtering out some of the ones that shouldn't get through"), "Ronan Boyle and the Bridge of Riddles" leaves a clear opening for a sequel and is, to repeat, extremely funny."
— The Wall Street Journal

"In the author's forward, Lennon states this book is his "love letter to Douglas Adams," and his efforts to emulate Adams' linguistic zaniness are evident throughout the book."
— School Library Journal

"Actor and humorist Lennon introduces readers to a bright, but also endearingly bumbling, tween protagonist and a fantasy faerie land filled with strange characters . . . A hilarious, otherworldly book."
— Booklist