Go and Do Likewise!: The Parables and Wisdom of Jesus (Hardcover)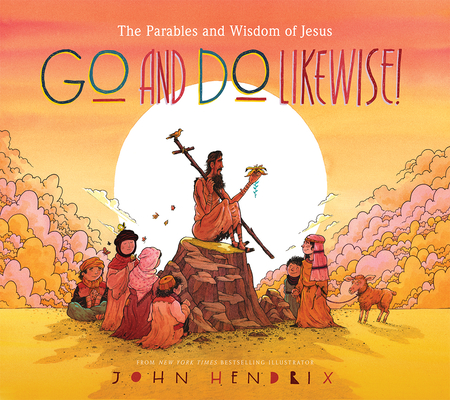 Description
---
The parables and teachings of Jesus are brought to life in this stunning picture book from award-winning author and illustrator John Hendrix

But Jesus was going somewhere.
His journey to find those most in need of him began anew each morning.
Jesus walked . . . and ever since, people have followed him.

Through parables of the good Samaritan and the prodigal son, the lost sheep and the beatitudes, Jesus taught his disciples the redeeming power of sacrificial love and showed mercy to everyone around him—especially the sick, the poor, and the downtrodden.

In this inspirational and richly illustrated book, John Hendrix brings to life the wisdom of Jesus. Interweaving hand lettering with his signature, award-winning art style, Hendrix captures the spirit of Jesus's timeless message that will resonate with readers of any Christian faith.

About the Author
---
John Hendrix is a New York Times bestselling author and illustrator. His books include The Faithful Spy: Dietrich Bonhoeffer and the Plot to Kill Hitler, named a Best Book of 2018 by NPR, and Drawing Is Magic: Discovering Yourself in a Sketchbook. His award-winning illustrations have appeared on book jackets and in newspapers and magazines. He is chair of the MFA Illustration and Visual Culture program in the Sam Fox School of Design & Visual Arts at Washington University in St. Louis. Hendrix lives in Webster Groves, Missouri.
Praise For…
---
"A picture book that in its varied lettering and sharp color contrasts exudes a sense of confidence and vigor."
— The Wall Street Journal

**STARRED REVIEW**
"The narrative itself is as welcoming to explorers as to believers. This title, which melds contemporary visual expression with centuries-old artistic tradition, will be particularly valued for multigenerational shared Bible reading."
— Bulletin of the Center for Children's Books

"Bright colors and patterns draw readers' attention. . .A starting point for children who are not already familiar with Jesus' parables."
— Kirkus Reviews