Grounded (Hardcover)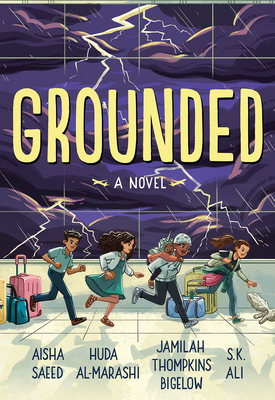 Description
---
Four kids meet at an airport for one unforgettable night in this middle-grade novel by four bestselling and award-winning authors—Aisha Saeed, Huda Al-Marashi, Jamilah Thompkins-Bigelow, and S. K. Ali.

When a thunderstorm grounds all flights following a huge Muslim convention, four unlikely kids are thrown together. Feek is stuck babysitting his younger sister, but he'd rather be writing a poem that's good enough for his dad, a famous poet and rapper. Hanna is intent on finding a lost cat in the airport—and also on avoiding a conversation with her dad about him possibly remarrying. Sami is struggling with his anxiety and worried that he'll miss the karate tournament that he's trained so hard for. And Nora has to deal with the pressure of being the daughter of a prominent congresswoman, when all she really wants to do is make fun NokNok videos. These kids don't seem to have much in common—yet.

Told in alternating points of view, Grounded tells the story of one unexpected night that will change these kids forever.
About the Author
---
Aisha Saeed is an award-winning and New York Times bestselling author of books for children. Her middle-grade novel Amal Unbound received multiple starred reviews and was a Global Read Aloud for 2018. Her picture book, Bilal Cooks Daal, received an APALA honor, and she was the co-editor of the critically acclaimed Once Upon an Eid. Aisha is also a founding member of the nonprofit We Need Diverse Books™. She lives in Atlanta with her family.
Huda Al-Marashi is the author of the bestselling memoir First Comes Marriage: My Not-So-Typical American Love Story. Her other writing has appeared in various anthologies and news outlets, such as the New York Times, Washington Post, LA Times, and al Jazeera. She is currently a fellow with the Highlights Foundation Muslim Storytellers Program, and Grounded is her first novel for young readers. She lives in San Diego with her family.
Jamilah Thompkins-Bigelow is a Philadelphia-based bestselling children's book author. Her books, which center around Black and Muslim kids, have been recognized by many, including TIME and NPR, and she is an Irma Black Award silver medalist. A former teacher and forever an educator-at-heart, she is probably most proud that her picture book Your Name Is a Song was named the December 2021 NEA Read Across America book and that it is included in the curriculums of major school districts throughout the United States.
S. K. Ali is the New York Times bestselling and award-winning author of several books, including the Morris Award finalist Saints and Misfits and Love from A to Z, both named as a top 10 YA title of the year by various media, including Entertainment Weekly and Kirkus Reviews. Her novel Misfit in Love is on People magazine's Best Books of Summer 2021 list. Her other books include the critically acclaimed middle-grade anthology Once Upon an Eid and the New York Times bestselling picture book The Proudest Blue.

Praise For…
---
"I loved this thrilling airport adventure, complete with friendship, thunderstorms, chocolate, and a missing celebrity cat. I couldn't put it down!Kids will love the comfort the book offers, as well as the adventure."—Victoria Jamieson, author of Roller Girl, a Newbery Honor book

"I love this book! It's the exact type of story I dreamed about finding as a kid—fun and funny with diverse Muslim representation. So charming and full of heart!"—Jasmine Warga, New York Times bestselling author of A Rover's Story

"Saeed, Al-Marashi, Thompkins-Bigelow, and Ali write four relatable, well-developed characters from different backgrounds who represent the diversity of Muslim communities, seamlessly connecting their individual and collective stories into a single whole. A positive, engaging story centering Muslim kids."—Kirkus Reviews

"In alternating points of view, the four authors—who collaborated on Once upon an Eid (2020)—have crafted a book that, while it brims with unapologetic Muslim rep, is not about religion but friendship and adventure. Hand to readers seeking a quick escape."—Booklist

"Spirited characters with distinctly wrought backgrounds prove both idealistic and realistic while emphasizing the importance of community and the idea that there is more than one way to honor Muslim identity."
—Publishers Weekly

This will appeal to a wide audience, with important topics addressed smartly, including the positives and negatives of social media, and fitting in with peers while staying ­connected to one's family.—School Library Journal

"This is more than a cute kitty caper with humorous airport antics: it's a thought-provoking adventure about growing up and the need for individuality, independence, and autonomy."—The Horn Book Magazine