Dear Mothman (Hardcover)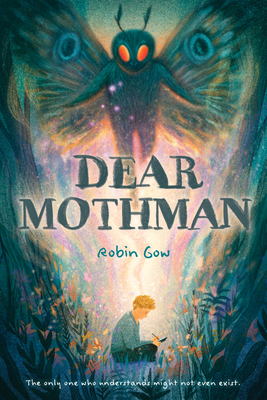 March/April 2023 Kids Indie Next List
---
"A tender story of a trans child navigating grief, friendship, love, and identity. Turning to a cryptid to express his feelings, Noah writes to figure out who he is, how much he misses his friend who passed away, and how to make new friends."
— Sydne Conant, A Room Of One's Own Bookstore, Madison, WI
Description
---
Poet and author Robin Gow's moving middle-grade novel in verse Dear Mothman is about a young trans boy dealing with the loss of his friend by writing to his favorite cryptid.

Halfway through sixth grade, Noah's best friend and the only other trans boy in his school, Lewis, passed away in a car accident. Adventurous and curious, Lewis was always bringing a new paranormal story to share with Noah. Together they daydreamed about cryptids and shared discovering their genders and names.

After Lewis's death, lonely and yearning for someone who could understand him like Lewis once did, Noah starts writing letters to Mothman, wondering if he would understand how Noah feels and also looking for evidence of Mothman's existence in the vast woods surrounding his small Poconos town. Noah becomes determined to make his science fair project about Mothman, despite his teachers and parents urging him to make a project about something "real."

Meanwhile, as Noah tries to find Mothman, he also starts to make friends with a group of girls in his grade, Hanna, Molly, and Alice, with whom he'd been friendly, but never close to. Now, they welcome him, and he starts to open up to each of them, especially Hanna, whom Noah has a crush on. But as strange things start to happen and Noah becomes sure of Mothman's existence, his parents and teachers don't believe him. Noah decides it's up to him to risk everything, trek into the woods, and find Mothman himself.
About the Author
---
Robin Gow is a trans poet and author from rural Pennsylvania. They are the author of several poetry books, an essay collection, the middle grade verse novel Dear Mothman, and the young adult verse novel A Million Quiet Revolutions. They live in Allentown, Pennsylvania, where they coordinate programs for their local LGBTQ+ community center.
Praise For…
---
"A hauntingly moving examination of grief, friendship, and identity, reminiscent of my favorite classics. Robin Gow has a magic with words, stirring and shining a light on the deepest of emotions, leaving behind goosebumps (and tears) for Noah's story. This book is a gift."
— Kacen Callender, author of the National Book Award winner King and the Dragonflies

"Dear Mothman gives us all the chance to step out of the shadows—when we're ready. Gow has crafted a story full of secrets, sadness, and the gentle thrill of knowing who you are."
— Niki Smith, author of The Golden Hour

"This tender story explores the emotional journey of navigating loss and feelings of being different. It illuminates the power of friendship, imagination, and compassion to make a person feel celebrated for exactly who they are. An important heart-book that will make young readers feel seen and understood."
— Donna Gephart, author of Lily and Dunkin and Abby, Tried and True

***STARRED REVIEW***
"At times thrilling and always moving, Gow's middle-grade debut is unquestionably a must-have for all collections."

— Booklist

***STARRED REVIEW***
"A ­triumphant coming-of-age story about gender identity, strength, and friendship, as well as the different ways that people ­discover who they are."
— School Library Journal

"Gow captures the complexity of emotions that arise amid grief and self-discovery. . .Poignant and sincere."
— Kirkus Reviews

"Gow beautifully blends verse with epistolary storytelling in this touching novel of a trans kid trying to search for answers about identity and belonging."
— The Bulletin of the Center for Children's Books

"Noah's journey through grief and coming out to the world is authentically messy and joyful."

— The Horn Book Magazine