Bug Bonanza! (Ada Twist, Scientist: Why Files #4) (The Questioneers) (Hardcover)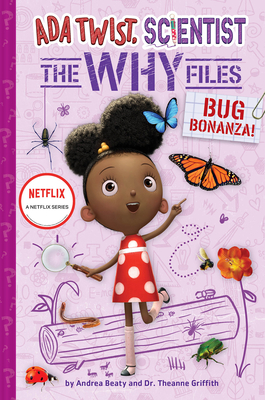 Description
---
Bug Bonanza! is the fourth book in a nonfiction early-reader series about simple science concepts starring Ada Twist, Scientist, spun-off from Andrea Beaty's New York Times bestselling Questioneers series and the hit Netflix show—cowritten by neuroscientist Dr. Theanne Griffith.

How do bees fly? Why does a spider weave a web? And why are bugs so important to our world?

Ada Twist, Scientist: The Why Files is the perfect nonfiction resource for all these questions pondered by the youngest scientists of tomorrow, as they learn along with Ada. Designed in a scrapbook format, these books combine art from the Netflix show, illustrations, and photography to bring simple science concepts to life.
About the Author
---
Andrea Beaty is the author of many beloved children's books, including the bestselling Questioneers series, I Love You Like Yellow; Happy Birthday, Madame Chapeau; and One Girl. She lives just outside Chicago.

Theanne Griffith is a neuroscientist and the author of the Magnificent Makers chapter book series. Since she was a little girl, she's loved both storytelling and science, and her books combine those two passions. Griffith received her BA in neuroscience and Spanish from Smith College and earned her doctorate in neuroscience from Northwestern University. She is an assistant professor at the University of California, Davis.