Unicorn Thinks He's Pretty Great (Hardcover)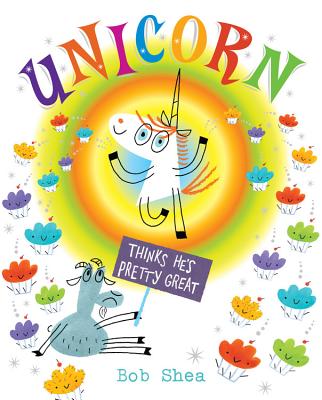 Description
---
The grass is always greener on the unicorn's side of the fence -- or is it? -- in this clever, bestselling favorite that Publishers Weekly called a "nonstop giggle generator"!

Ever since Unicorn moved into the neighborhood, Goat has been feeling out of sorts. Goat thought his bike was cool -- until he saw that Unicorn could fly to school! Goat made marshmallow squares that almost came out right, but Unicorn made it rain cupcakes! Unicorn is such a show-off, how can Goat compete? When Goat and Unicorn share a piece of pizza, Goat learns that being a unicorn might not be all it's cracked up to be. And when Unicorn shows his admiration for Goat, it looks like the beginning of a beautiful friendship.

Don't miss the hilarious sequel, Unicorn is Maybe Not So Great After All by Bob Shea!
About the Author
---
Bob Shea has created many hilarious books for young people, including Crash, Splash or Moo!, the popular Dinosaur Vs. series, Unicorn Thinks He's Pretty Great, Unicorn is Maybe Not so Great After All, and the early readers featuring Ballet Cat. He has also written stories such as Who Wet My Pants?, illustrated by Zachariah OHora. He lives in Madison, Connecticut and invites you to visit him at bobshea.com.