National Geographic Readers: Animal Tails (L1/Co-reader) (Paperback)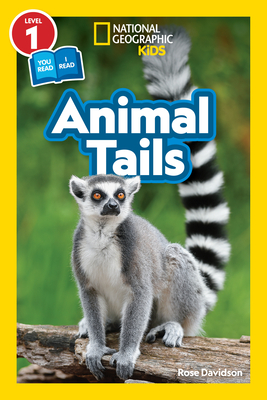 $5.99

Coming Soon - Available for Pre-Order Now
Description
---
Do you know why peacocks fan out their colorful fancy feathers, or how opposums hang upside-down from trees? Whether to seek attention, keep their balance, or move from place to place, animals have tails for a lot of different reasons.

Discover flat tails, curly tails, strong tails, and colorful tails of all kinds in this National Geographic Kids Co-reader. Learn all about why animals--from monkeys to opposums to ring-tailed lemurs--have tails and how they use them.

National Geographic Kids readers have been a hit in the beginning reader category, and this book builds upon that success with a new approach--parents and children reading together. With the same combination of careful text, brilliant photographs, and fun approach to high-interest subjects that has proved to be a winning formula with kids, National Geographic co-readers provide one page of adult read-aloud text and one page of kid read-aloud text on each spread, building toward a collaborative reading experience.
About the Author
---
ROSE DAVIDSON is an author, researcher, and former editor and digital producer for National Geographic Kids. She loves to write about wacky animal stories and cutting-edge science discoveries. Davidson received degrees in journalism and anthropology from Ohio State University. A world traveler, she has journeyed to far corners of the globe, including to Borneo, where she saw her favorite animal, the orangutan, in the wild.
Praise For…
---
"Reliable in format and solid in execution, this series works well to introduce children of varying levels of reading comfort to nonfiction and research formats."—Maggie Reagan, Booklist