National Geographic Readers: Amazon Animals (L3): 100 Fun Facts About Snakes, Sloths, Spiders, and More (Paperback)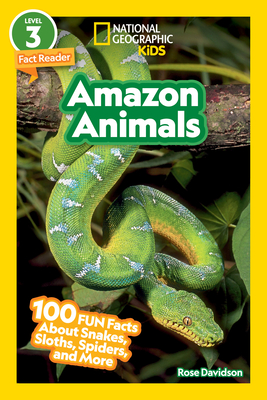 Description
---
Journey to the Amazon—the world's largest rainforest and home to more animal species than any place on Earth—and discover the creatures that live there.

This Level 3 Reader introduces the amazing creatures that make their home in the world's largest rainforest, from pink dolphins swimming in the Amazon River to colorful butterflies and toucans flying in the treetops. Meet a sloth sleeping 20 hours a day in the canopy. Join a jaguar stalking its prey. There's always more to explore in the Amazon! Readers learn where the animals sleep, eat, play, and hunt in the rainforest's four layers, what dangers they face to survive, and what people are doing to help them.

National Geographic Readers' combination of expert-vetted text, along with brilliant images and a fun approach to reading has proved to be a winning formula with kids, parents, and educators. Level 3 Fact Reader text provides accessible yet wide-ranging information for fluent readers. Each reader includes text written by an experienced, skilled children's book author, a photo glossary, and interactive features in which kids get to reinforce what they've learned in the book.

Packed with colorful photos and tons of info, this engaging Level 3 Fact Reader takes kids into the heart of the Amazon as they get up close and personal to jaguars, capybaras, howler monkeys, boa constrictors, poison frogs, and more!
About the Author
---
ROSE DAVIDSON is an author, researcher, and former editor and digital producer for National Geographic Kids. She loves to write about wacky animal stories and cutting-edge science discoveries. Davidson received degrees in journalism and anthropology from Ohio State University. A world traveler, she has journeyed to far corners of the globe, including to Borneo, where she saw her favorite animal, the orangutan, in the wild.
Praise For…
---

Praise for National Geographic Readers:
"Reliable in format and solid in execution, this series works well to introduce children of varying levels of reading comfort to nonfiction and research formats."—Maggie Reagan, Booklist