365 Things to Do with LEGO Bricks: Lego Fun Every Day of the Year (Mixed media product)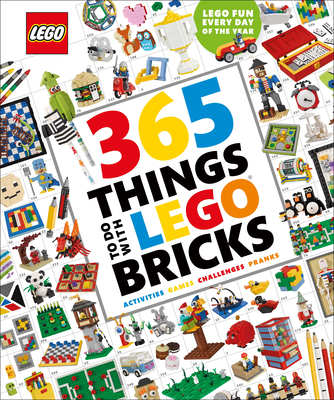 $24.99
Usually Ships in 1-5 Days
Description
---
Discover 365 fun LEGO ideas for all the family! Design your dream LEGO home, create a LEGO treasure hunt, race against the clock to stack a totem pole, build an optical illusion, challenge your family to a game of LEGO ten-pin bowling, trick your friends with a pencil prank... and much more!

With a timer and random-number generator for selecting activities and building tips from LEGO® fan builders, this interactive book encourages creativity while teaching new building skills. 

Choose from activities that take just a few minutes and require a handful of bricks to inspirational build ideas to keep you occupied for hours. 365 Things to Do with LEGO Bricks is full of activities, games, challenges, and pranks that will keep you busy every day of the year!

LEGO, the LEGO logo, the Brick and Knob configurations and the Minifigure are trademarks of the LEGO Group. ©2016 The LEGO Group. All rights reserved. Produced by DK Publishing under license from the LEGO Group.
About the Author
---
Alice Finch took the LEGO® world by storm when she unveiled one of the largest LEGO models ever built by a single person; a minifigure-scale LEGO Hogwarts School of Witchcraft & Wizardry. She is a master LEGO builder and contributor to DK's LEGO Awesome Ideas. She lives with her family in Seattle, Washington.
Rod Gillies lives in Edinburgh in Scotland. He is best known in the LEGO world for his steampunk and microscale creations, and being a contributor to The Brothers Brick blog. He has built models for a number of the DK LEGO books, including the LEGO Play and LEGO Awesome Ideas books. When he's not building, he writes, and is the author of a trilogy of adventure novels. In the real world, he works in innovation and marketing for one of the world's biggest brewers.