The Only Woman in the Photo: Frances Perkins & Her New Deal for America (Hardcover)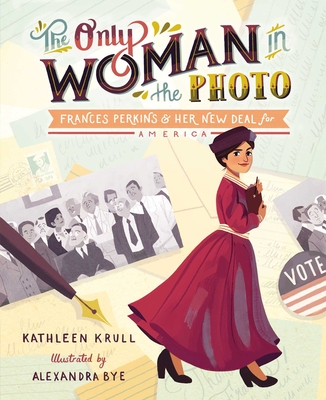 $19.99

Usually Ships in 1-5 Days
Description
---
Discover the incredible life of Frances Perkins, the first woman to serve in a presidential cabinet and the mastermind behind Franklin D. Roosevelt's New Deal, in this fascinating picture book biography that's perfect for fans of I Dissent.

Most people know about President FDR, but do you know the woman who created his groundbreaking New Deal?

As a young girl, Frances Perkins was very shy and quiet. But her grandmother encouraged Frances to always challenge herself. When somebody opens a door to you, go forward.

And so she did.

Frances realized she had to make her voice heard, even when speaking made her uncomfortable, and use it to fight injustice and build programs to protect people across the nation. So when newly-elected President Franklin Delano Roosevelt finally asked Frances to be the first female Secretary of Labor and help pull the nation out of the Great Depression, she knew she had to walk through that open door and forward into history.

In this empowering, inspirational biography, discover how the first woman to serve in a presidential cabinet led the charge to create the safety net that protects American workers and their families to this day.
About the Author
---
Kathleen Krull (1952–2021) was the author of over 100 books, including No Truth Without Ruth: The Life of Ruth Bader; A Woman for President: The Story of Victoria Woodhull; Lives of Extraordinary Women: Rulers, Rebels (and What the Neighbors Thought); The Only Woman in the Photo; and other acclaimed biographies for young readers. Visit her website at KathleenKrull.com.

Alexandra Bye is a freelance illustrator specializing in fun, colorful illustrations for a variety of media such as editorial and children's publications. Her work is constantly inspired by her flourishing New England community and reflects the energy and dynamic personality of hometown pride. In her free time, she enjoys mountain biking, Nordic ski racing, Jiu Jitsu, studying nutritional therapy, and hiking in the White Mountains with her dog, Oliver.
Praise For…
---
"Brimming with realistic detail about the difficulties of pursuing one's goals and making a difference while functioning as a woman in the first half of the 20th century...Krull smoothly describes Perkins' influences and motivations, her sensitivity to and awareness of injustice, how she overcame some of the fears and constraints she faced, her development as an advocate, and her many accomplishments...in a kid-friendly and accessible manner...an appealing, informative picture-book biography that showcases the accomplishments of a great American heroine."
— Kirkus Reviews

* "Frances Perkins is credited with creating the U.S. Social Security system, so she's long overdue for some
attention....The book's presentation is appealing, the content is suitable for reading aloud, and the back matter and list of sources will be appreciated by researchers. This is a fitting tribute for an inspirational role model."

— Booklist - Starred Review

"Krull does a laudable job following Perkins from compassionate child, to champion of laborers, to industrial inspector, to advisor to the president, including plenty of quotes from Perkins that offer insight not only into her accomplishments but also into the personal struggle and strategies that allowed her to excel at early twentieth century politics on an all-boys team."
— BCCB

"Weaving in quotes from Perkins, Krull crafts a deft introduction to the achievements of a remarkable woman."
— Publisher's Weekly

"This inspiring biography of a woman who paved the way for so many future leaders...is long overdue. Krull's straightforward yet passionate narrative is packed with information, succinctly pinpointing key biographical moments and explaining complex history. Direct quotes from Perkins in stylized hand-lettered script accompany Bye's child-friendly digital illustrations, which are as dynamic and colorful as their remarkable subject."
— Horn Book

"This empowering picture book biography of the first woman in a presidential cabinet — and the mastermind behind Roosevelt's New Deal — will encourage kids to imagine how their own voices could change the world."
— A Mighty Girl's 2020 Books of the Year