The Ambrose Deception (Paperback)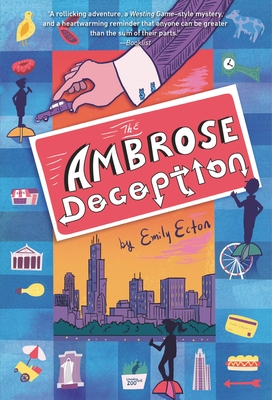 Description
---
Melissa is a nobody. Wilf is a slacker. Bondi is a show-off.

Not a single one of Melissa, Wilf, or Bondi's middle school teachers would considerer them a star student. Yet to everyone's surprise, Melissa, WIlf, and Bondi are the three students chosen to compete for a ten thousand-dollar scholarship, solving clues that lead them to various locations around Chicago. None of the kids have heard of the scholarship before, but the rules seem simple enough: solve clues, take photo proof, and win money. 

At first the three contestants work independently, but it doesn't take long before each begins to wonder whether the competition is a sham. It's only by secretly joining forces and using their unique talents that the trio is able to uncover the truth behind the Ambrose Deception -- a truth that involves a lot more than just a scholarship.

With a narrative style as varied and intriguing as the mystery itself, this adventure involving clever clues, plenty of perks, and abhorrent adults is pure wish fulfillment.
About the Author
---
Emily Ecton is the author of multiple middle grade books published under the names Emily Ecton and Emily Fairlie. She is also a former writer and producer for Wait, Wait . . . Don't Tell Me!, the Peabody Award-winning comedy news quiz on NPR. Her books have been nominated for the Texas Bluebonnet Award, the Massachusetts Children's Book Award, the Pennsylvania Young Rader's Choice Award and the Sunshine State Young Reader's Award. After years of living in Chicago, she now lives in Charlottesville, Virginia with her dog, Binky. For more information, visit her online at emilyecton.com.
Praise For…
---
"In the tradition of The Westing Game or Chasing Vermeer, this is a plot-driven brainteaser centered on Chicago landmarks and Chicago history. . . . A lighthearted mystery starring seriously smart kids."—Kirkus Reviews

"The story made me grin, and the clues--truly solvable clues!--had me searching my memory for what I knew of Chicago for answers. Then, be prepared for twists. You'll think, 'Yeah, what is going on with all the secrecy? Is something up?' Indeed, it is!"—Amy Timberlake, author of a Newbery Honor Book

"Ambrose Deception thrusts the reader into a story that satisfies and complicates and then twists at just the right moment. Emily Ecton delivers a readable maze of a novel that middle grade readers will adore and not stop talking about! These characters are quite the accomplishment. I want to be their friend."—Ridley Pearson, best-selling author of the Kingdom Keepers series

"Emily Ecton writes stories that feel like good friends--this is a timelessly fun, funny adventure."—Adam Rex, author of The True Meaning of Smekday

A Junior Library Guild Selection