Twisted Tongues: Jokes, Comics, Facts, and Tongue Twisters––All 100% Gross! (Paperback)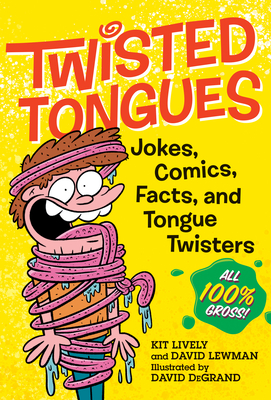 Description
---
Say this ten times fast: Big bedbugs bite pet pugs' butts!
 
Featuring the funniest things in life––like barf, drool, mucus, pus, and gas––Twisted Tongues is an excellent collection of more than 150 tongue twisters, all sure to gross out your parents.
 
Use the Twist Level meters to gauge your skill and challenge others in mouth-mangling twister games. Then enjoy riddles told by two talking boogers!
 
There's loads to learn, too: Did you know that ancient Romans scraped off their skin's oil and sweat and sold it as medicine? Ewwwww.
 
About the Author
---
Grosser than ANYTHING in his books, Kit Lively lives in a small house made entirely of earwax. Not his own earwax, of course; that would be weird. He has written lots and lots of jokes for MAD magazine, Cracked, SpongeBob Comics, and many other humor magazines. Incredibly, he has a wife (Julie).
 

David Lewman has written over 135 books, including joke books and chapter books starring SpongeBob, Minions, Teenage Mutant Ninja Turtles, Trolls, and the characters from Jurassic World. He's also written comics and scripts for TV shows. He thinks the grossest thing in the world is being mean.
 

David DeGrand is a cartoonist from Texas who enjoys drawing weird and gross stuff that makes people either laugh or barf (sometimes both). His work has appeared in SpongeBob Comics, MAD magazine, and the margins of his elementary school notebooks.