One-Third Nerd (Hardcover)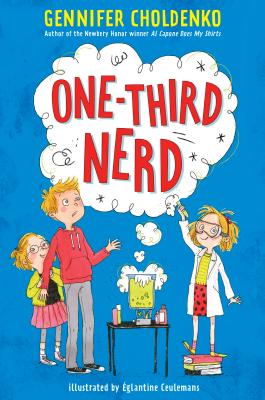 Description
---
A funny, fast-paced, and heartfelt story from the Newbery Honor-winning author of the Al Capone series.

Fifth grade is not for amateurs, according to Liam. Luckily, he knows that being more than one-third nerd is not cool. Liam lives in the Bay area near San Francisco with his mom and two younger sisters. Dakota is fascinated by science and has a big personality but struggles to make friends; Izzy, a child with Down syndrome, makes friends easily and notices things that go past everyone else. Dad lives across town, but he's over a lot. And then there's Cupcake, their lovable German shepherd, who guards their basement apartment.

Recently, Cupcake has a problem--she's peeing in the house. The kids need to make enough money to take her to the vet before their landlord upstairs finds out. And Mom and Dad have said if Cupcake doesn't stop, they will find her a new home. But the kids will never let Cupcake go. Can they save her?
About the Author
---
Hi, I'm Sasha Choldenko, Gennifer's German shepherd, and I'd like to add my two doggy biscuits here. Gennifer says she's written fourteen books for kids, but how many are for dogs? Lately, I've decided to take matters into my own paws. I am recommending these changes to Gennifer's previous books: Dog Does My Shirts, Dog Shines My Shoes, Dog Does My Homework, Al Capone Throws His Dog a Stick, and my personal favorite, Chasing Cats. Send your fan mail directly to me. Bones of any kind are also welcome.

If you must, visit her online at gennifercholdenko.com, on Facebook at facebook.com/gennifer.choldenko, and on Twitter at @choldenko.

Églantine Ceulemans was born in Belgium, where she spent her childhood drawing silly characters and funny pets. She attended the Emile Cohl art school in Lyon, France, transforming her passion for illustration into a career. She loves combining humor and sensitivity in her illustrations to inspire both children and their parents. She lives in Paris. Visit her online at eglantineceulemans.com, on Twitter at @lelephantine, or on Instagram at @eglantineceulemans.
Praise For…
---
"Reminiscent of Judy Blume's work, this endearing story will make many children laugh and allow some to see a part of themselves."—Kirkus Reviews, Starred

"It is Liam's quiet thoughtfulness and relationship with his sisters, especially his interest in their lives—Izzy's Down syndrome social group "the Forty-Sevens" and Dakota's impulsive experiments—that let him shine just as bright as his two extroverted sisters."—Publishers Weekly, Starred

Praise for the Al Capone books:
 
"Choldenko's pacing is exquisite. . . . [A] great read." --Kirkus Reviews, Starred

"Rich characterization, tender drama, and sleuthworthy clues, this poignant mystery makes for a thoroughly satisfying conclusion to the landmark historical trilogy." --Booklist, Starred

"Choldenko continues to infuse the Alcatraz community with warmth and originality." --Publishers Weekly, Starred

"Choldenko's storytelling is compelling, portraying human decency as a force more powerful than heroism." --Newsday