The Phantom Tower (Hardcover)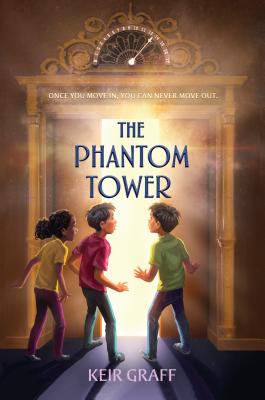 Description
---
Twin brothers discover their new home is also a portal--for an hour a day--to a parallel dimension in this spine-chilling middle-grade adventure, perfect for fans of The Mysterious Benedict Society

Twelve-year-old twins Colm and Mal might look identical, but they're different in just about every other way. The one thing they can agree on is that neither brother wants to move to Chicago for a fresh start with their mom two years after their dad's death.

The boys soon discover that their new apartment building, Brunhild Tower, is full of strange quirks: a mysterious Princess who warns them not to wander the building at midday, eerie sounds coming from the walls, and an elevator that's missing a button for the thirteenth floor. Then one afternoon, that button appears, catapulting the brothers and their inquisitive new neighbor, Tamika, into a parallel dimension and a twin building stuck in time, where the spirits of all the former residents of Brunhild Tower live on, trapped by an ancient curse. Now, Colm, Mal, and Tamika must race against time to solve the mystery of the phantom tower—or risk spending an eternity as ghosts themselves.
About the Author
---
Keir Graff is the author of funny and fantastical middle-grade adventure novels, including The Phantom Tower (a Chicago Tribune Best Children's Book of the Year) and The Matchstick Castle (an official Illinois Reads selection). He also writes books for grown-ups--some of them under made-up names! A longtime resident of Chicago, he lives near the shore of Lake Michigan with his wife, Marya, their sons, Felix and Cosmo, and their cats, Toothless and Totoro.
Praise For…
---
Praise for The Phantom Tower:
A Chicago Tribune Best Children's Book of 2018

"Goose bump-inducing fun."—Kirkus Reviews

"[A] nail-biting adventure. . . . Hand to fans of Eoin Colfer's 'Artemis Fowl' novels, Roland Smith's 'IQ' series, or Mac Barnett's 'The Brixton Brothers.'"—School Library Journal

"Exciting action, a creepy curse and well-drawn characters make for supremely cozy reading on a cold winter's night."—Chicago Tribune 

Praise for The Matchstick Castle:

"Fast-paced, anarchic fun for reluctant and avid readers alike."—Kirkus Reviews 

"This quirky novel is reminiscent of a Wes Anderson movie for the tweenage set. . . . For those who enjoy a bit of absurdist humor with their realism."—School Library Journal 

"A zippy, adventurous romp in the woods complete with fierce animals and buried treasure."—Bulletin of the Center for Children's Books

"What makes this book special is the way Graff evokes the excitement of new vistas . . . . a compelling reminder that it's a great big world out there, just waiting for the next generation of dreamers and explorers."—Chicago Tribune

"A whimsical adventure with a large dose of humor? Yes, please! This story spoke to my inner child, who suffered too many boring summer vacations and longed to discover something magical and exciting in my own backyard."—Jennifer Chambliss Bertman, New York Times bestselling author of Book Scavenger and The Unbreakable Code 

"For boys and girls alike, this story sings."—Blue Balliett, award-winning author of Chasing Vermeer

"A towering tale filled with astonishing action, amazing characters, and two very daring adventurers."—David Lubar, author of the Monsterrific Tales series, the Weenies series, and Sleeping Freshmen Never Lie