Polar: Wildlife at the Ends of the Earth (Hardcover)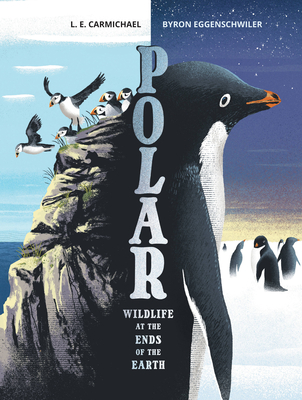 Description
---
From the author of the critically acclaimed The Boreal Forest, a stunning exploration of the animals that have adapted to survive in Earth's harsh polar regions.

The Arctic and Antarctica, at opposite ends of the Earth, have much in common: bitter cold, ferocious winds and darkness lasting six months. Despite these harsh conditions, many animals have adapted to stay alive in the polar regions. This evocative and beautifully illustrated book from the award-winning team of author L. E. Carmichael and illustrator Byron Eggenschwiler explores how animals at opposite ends of the Earth survive using similar adaptations. There's the arctic fox who is protected from the ice by the fur on the soles of her feet, the emperor penguins huddling in groups around their chicks to keep everyone warm, and the narwhal using echolocation to find a crack in the surface ice to breathe. It's a fascinating journey through a year in the polar regions, where animals don't just survive - they thrive!

Each spread in the book is devoted to a month and includes a themed introduction and two stories on opposites pages, one about an animal in the Arctic and one about an animal in Antarctica. Extra spreads cover topics such as seasons, winter weather and types of ice. The book concludes with a timely description of the disruptions that climate change is causing to the polar regions, and how this will have global consequences. A glossary, further reading, author's sources, an index and ideas for what children can do to help are included. There are strong life science curriculum applications here in animal habitats and animal adaptation, migration, hibernation and cooperation.
About the Author
---
L. E. Carmichael is the author of more than twenty informational books for children, including the critically acclaimed The Boreal Forest. She is the winner of the Lane Anderson Award, which recognizes excellence in science writing for kids, and the Governor General's Medal for her PhD thesis about northern wolves and arctic foxes. She lives with her family in Trenton, Ontario.
Byron Eggenschwiler is an award-winning illustrator whose recent books include The Strangest Thing in the Sea, Beastly Puzzles and The Little Ghost Who Was a Quilt. His work has appeared in the New Yorker, the New York Times, the Wall Street Journal and GQ. Byron lives in Calgary, Alberta, with his wife and two cats.
Praise For…
---
Excellent for the natural history and science shelves.—Kirkus Reviews, starred review (Praise for The Boreal Forest)

First-rate from top to bottom.—Kirkus Reviews, starred review

Carmichael's often lyrical text engages the reader and perfectly captures the setting while Eggenschwiler's illustration style and his use of murky blues, teals and golden-browns not only suit the text but have a nostalgic feel, harkening back to the illustration style of the past.—CM Magazine

An informative introduction to the boreal forest.—Booklist (Praise for The Boreal Forest)

A fascinating introduction to the world's largest biome.—School Library Journal (Praise for The Boreal Forest)