The Silver Secret (Snow Sisters #1) (Paperback)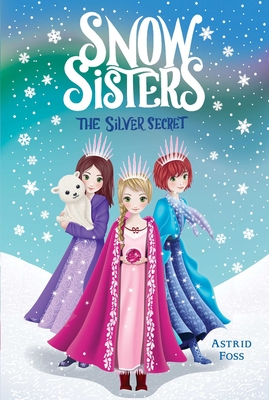 Description
---
Disney's Frozen meets Snow and Rose in this enchanting chapter book adventure about princess sisters with magical powers who embark on a quest to defeat an evil witch.

Three princesses live in a sparkling, happy kingdom. There's always the perfect blanket of snow on the ground, and the sky is filled with the glowing, multi-colored Everchanging Lights that protect their kingdom.

When the wicked Shadow Witch plans to steal the Everchanging Lights out of the sky, the Snow Sisters will do whatever it takes to stop her. The princesses, along with their pet polar bear, sneak away from the castle under cover of night. To protect the pink Everchanging Light before the Shadow Witch can snatch it for herself, the girls will have to brave the treacherous frozen forest. Can they make it through in time?
About the Author
---
Astrid Foss—if that's even her real name—is very secretive. No one is sure where she lives, but it's probably in a log cabin where she can take her huskies for a walk every morning then sit with a hot chocolate and dream up icy adventures. One thing is for sure…she loves ginger cookies and knitting complicated hats!

Monique Dong studied to become an animator, but soon realized she had a love for illustrating children's books and has been following that dream ever since. Born in South Africa, she now lives in China with her husband and baby boy.
Praise For…
---
"There's something for everyone in this series opener: Arctic animals, magic, pretty gowns, adventure."
— Kirkus Reviews