Best Friends, Bikinis, and Other Summer Catastrophes (Paperback)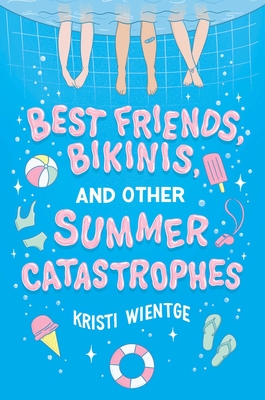 $7.99

Coming Soon - Available for Pre-Order Now
Description
---
For fans of Barbara Dee and Shannon Hale, this poignant coming-of-age middle grade novel explores the ups and down of best friends, crushes, and backyard projects during a summer full of changes and possibilities.

Alex has always known her best friend and next-door neighbor, Will, will be there for her. That's just how it's always been. Until a girl from the pool named Rebekah comes over to them and says hi. Suddenly, Will is changing his clothes, restyling his hair, and breaking all their summer plans and Alex is not happy about it.

Every summer, she and Will come up with a new challenge. This year, it's a treehouse. Now Alex is wrangling up summer jobs and keeping tabs on the new girl, hoping that in completing their treehouse, she can keep from losing her best friend and her summer from falling apart.
About the Author
---
Kristi Wientge is originally from Ohio where she grew up writing stories about animals and, her favorite, a jet-setting mouse. After studying to become a teacher for children with special needs, she spent several years exploring the world from China to England, teaching her students everything from English to how to flip their eyelids inside out. She's spent twelve years raising her family in her husband's home country of Singapore, where she spends her days ferrying her four kids to school and taking Punjabi and music lessons. With the help of her mother-in-law, she can now make a mean curry and a super-speedy saag. She is the author of Karma Khullar's Mustache, Honeybees and Frenemies, and Best Friends, Bikinis, and Other Summer Catastrophes. Visit her online at KristiWientge.com.
Praise For…
---
"This realistic story about tween emotional swings reads easily and rings true...[a]n enjoyable read about changing friendships and responsibilities."
— Kirkus Reviews

"Alex navigates not only her changing friendships but also her family dynamics, with her grandfather moving on after her beloved Nana's death. The characters are well developed, and nothing in Alex's journey is easily answered. Her inner voice and turmoil ring true as Alex moves from feeling like a kid to becoming a teen. A perfect choice about the emotional in-between experience for middleschoolers."
— Booklist