New from Here (Paperback)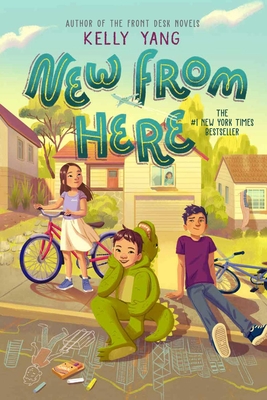 March/April 2022 Kids Indie Next List
---
"Knox grapples with ADHD, moving with his mom and siblings far away from his dad, anti-Asian racism, and a health crisis. Humor tempers serious discussions about race, and readers will feel hope for a future we still don't fully grasp."
— Robin Stern, Books Inc., San Francisco, CA
Description
---
An instant #1 New York Times bestseller!

This "timely and compelling" (Kirkus Reviews) middle grade novel about courage, hope, and resilience follows an Asian American boy fighting to keep his family together and stand up to racism during the initial outbreak of the coronavirus.

When the coronavirus hits Hong Kong, ten-year-old Knox Wei-Evans's mom makes the last-minute decision to move him and his siblings back to California, where they think they will be safe. Suddenly, Knox has two days to prepare for an international move—and for leaving his dad, who has to stay for work.

At his new school in California, Knox struggles with being the new kid. His classmates think that because he's from Asia, he must have brought over the virus. At home, Mom just got fired and is panicking over the loss of health insurance, and Dad doesn't even know when he'll see them again, since the flights have been cancelled. And everyone struggles with Knox's blurting-things-out problem.

As racism skyrockets during COVID-19, Knox tries to stand up to hate, while finding his place in his new country. Can you belong if you're feared; can you protect if you're new? And how do you keep a family together when you're oceans apart? Sometimes when the world is spinning out of control, the best way to get through it is to embrace our own lovable uniqueness.
About the Author
---
Kelly Yang is the New York Times bestselling author of Front Desk (winner of the 2019 Asian Pacific American Award for Children's Literature), Parachutes, Three Keys, Room to Dream, New from Here, Finally Seen, and Finally Heard. Front Desk also won the Parents' Choice Gold Medal, was the 2019 Global Read Aloud, and has earned numerous other honors including being named a best book of the year by Amazon, The Washington Post, Kirkus Reviews, School Library Journal, Publishers Weekly, and NPR. Learn more at KellyYang.com.
Praise For…
---
"Yang again demonstrates her talent for honest, age-appropriate storytelling from a child's perspective that both entertains and educates. A compelling story that conveys the importance of showing love and kindness, especially during hard times. Highly recommended for all middle-grade collections."
— Booklist, starred review

"Knox's struggles will resonate with all children who lived through the scary and uncertain first year of the COVID-19 pandemic...a pandemic book that is also a story of the importance of family, friendship, and standing up for what is right; another knockout from Yang."
— School Library Journal, starred review

"Yang deftly touches on complex issues including China–Hong Kong relations, racism, the grief of separation and dislocation, and the pandemic, all while maintaining a hopeful tone.

A timely and compelling family journey."
— Kirkus Reviews

"Narrating from Knox's approachable, first-person-present perspective, Yang adeptly maintains a sense of hope and belief in love, balancing haunting dramatic irony...with moments of levity as the family works to be reunited."
— Publishers Weekly

"Without beating the reader over the head the author manages to emphasize values such as family first, kindness, and courage throughout the story. The genuine nature of this pandemic tale stems from Yang's experiences with her own family. This book will keep readers turning pages, if not for its recognizable elements than for its ability to transmit the love and strength of a family under duress in an unusual time...highly recommended."
— School Library Connection

"Based on the real-life experiences of Yang and her family, the story does not soften the trauma of moving somewhere for safety, only to realize that place has its own dangers and hardships, and it also recognizes the pandemic's specific social and economic losses, as well as the emotional toll it takes on Knox and the people he cares about....plenty of adults and kids alike are exhausted by the pandemic, but this is a timely mid-grade must-have and a story that needs to be told."
— BCCB

"Despite the serious subject matter, Yang includes plenty of humor, with wry observations about Zoom schooling and the kids' efforts to "help out" with a garage sale and LinkedIn job hunt. Knox's experience with ADHD is portrayed with nuance and empathy."
— The Horn Book Magazine