Whale Done (FunJungle) (Hardcover)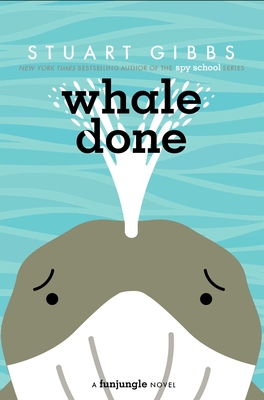 Description
---
In the eighth novel in New York Times bestselling Stuart Gibbs's FunJungle series, Teddy Fitzroy returns as FunJungle's resident sleuth to find the culprits behind a blown-up whale and a string of beach sand thefts.

After an escaped kangaroo starts a fire that burns down his house, Teddy Fitzroy accepts an invitation to go to Malibu with his girlfriend, Summer, and her mother, Kandace. He's hoping to spend some time relaxing on the beach, but wherever Teddy goes, trouble isn't far behind.

First, a massive dead whale has washed up on the beach—and before anyone can determine what killed it, it explodes. Doc, the head vet from FunJungle, suspects something fishy is going on and ropes Teddy and Summer into helping him investigate.

Then, Teddy stumbles upon yet another mystery involving tons of stolen sand. And the paparazzi start spreading rumors about Summer dating a celebrity, leading Teddy to question their relationship.

Without Summer as his trusted partner, can Teddy navigate the rough waters of this glitzy world and uncover what's going on?
About the Author
---
Stuart Gibbs is the New York Times bestselling author of the Charlie Thorne series, FunJungle series, Moon Base Alpha series, Once Upon a Tim series, and Spy School series. He has written screenplays, worked on a whole bunch of animated films, developed TV shows, been a newspaper columnist, and researched capybaras (the world's largest rodents). Stuart lives with his family in Los Angeles. You can learn more about what he's up to at StuartGibbs.com.