Because of Winn-Dixie (Paperback)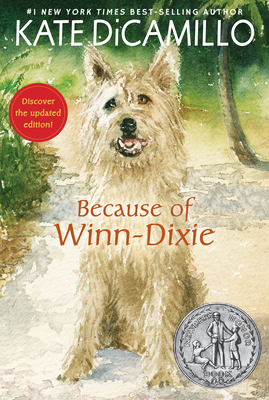 Description
---
The classic heartwarming tale from Kate DiCamillo—now with an afterword from the beloved author, reflecting on twenty years in print

One summer's day, ten-year-old India Opal Buloni goes down to the local supermarket for some groceries—and comes home with a dog. But Winn-Dixie is no ordinary dog. It's because of Winn-Dixie that Opal begins to make friends. And it's because of Winn-Dixie that she finally dares to ask her father about her mother, who left when Opal was three. In fact, as Opal admits, just about everything that happens that summer is because of Winn-Dixie. This updated edition of Kate DiCamillo's classic novel invites readers to make themselves at home—whether they're experiencing the book for the first time or returning to an old favorite.
About the Author
---
Kate DiCamillo says of writing BECAUSE OF WINN-DIXIE, "I was living in an apartment where no dogs were allowed. As a result, I was suffering from a serious case of 'dog withdrawal.' One night, before I went to sleep, I heard this little girl's voice (with a Southern accent) say, 'I have a dog named Winn-Dixie.' When I woke up the next morning, the voice was still talking, and I started writing down what India Opal Buloni was telling me. The book is (I hope) a hymn of praise to dogs, friendship, and the South."
Praise For…
---
"Take one disarmingly engaging protagonist and put her in the company of a tenderly rendered canine and you've got yourself a recipe for the best kind of down-home literary treat. Kate DiCamillo's voice in Because of Winn-Dixie should carry from the steamy, sultry pockets of Florida clear across the miles to enchant young readers everywhere." — Karen Hesse, author of the Newbery-award winner Out of the Dust