How Do You Spell Unfair?: MacNolia Cox and the National Spelling Bee (Hardcover)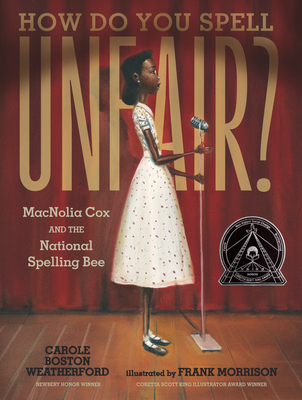 Description
---
From a multi-award-winning pair comes a deeply affecting portrait of determination against discrimination: the story of young spelling champion MacNolia Cox.

MacNolia Cox was no ordinary kid.
Her idea of fun was reading the dictionary.

In 1936, eighth grader MacNolia Cox became the first African American to win the Akron, Ohio, spelling bee. And with that win, she was asked to compete at the prestigious National Spelling Bee in Washington, DC, where she and a girl from New Jersey were the first African Americans invited since its founding. She left her home state a celebrity—right up there with Ohio's own Joe Louis and Jesse Owens—with a military band and a crowd of thousands to see her off at the station. But celebration turned to chill when the train crossed the state line into Maryland, where segregation was the law of the land. Prejudice and discrimination ruled—on the train, in the hotel, and, sadly, at the spelling bee itself. With a brief epilogue recounting MacNolia's further history, How Do You Spell Unfair? is the story of her groundbreaking achievement magnificently told by award-winning creators and frequent picture-book collaborators Carole Boston Weatherford and Frank Morrison.
About the Author
---
Carole Boston Weatherford, a New York Times best-selling author and poet, was named the 2019 Washington Post–Children's Book Guild Nonfiction Award winner. Her numerous books for children include the Coretta Scott King Author Award winner Unspeakable: The Tulsa Race Massacre, illustrated by Floyd Cooper; the Caldecott Honor Books Moses: When Harriet Tubman Led Her People to Freedom, illustrated by Kadir Nelson, and Voice of Freedom: Fannie Lou Hamer, Spirit of the Civil Rights Movement, illustrated by Ekua Holmes, which was also a Robert F. Sibert Honor Book; the critically acclaimed Schomburg: The Man Who Built a Library, illustrated by Eric Velasquez; and the Newbery Honor Book BOX: Henry Brown Mails Himself to Freedom, illustrated by Michele Wood. Carole Boston Weatherford lives in North Carolina.

Frank Morrison has won numerous awards for his picture book illustration, including two Coretta Scott King Illustrator Awards. He previously collaborated with Carole Boston Weatherford on Standing in the Need of Prayer: A Modern Retelling of the Classic Spiritual; R-E-S-P-E-C-T: Aretha Franklin, the Queen of Soul; How Sweet the Sound: The Story of Amazing Grace; and The Roots of Rap: 16 Bars on the 4 Pillars of Hip-Hop. Frank Morrison lives outside Atlanta.
Praise For…
---
Functions both as history and as antiracist reading that will inspire discussion in homes and libraries. . . Frank Morrison's illustrations, in which her physical size fluctuates, provide the emotional core of the story. Drawn large, Cox swells with joy; drawn small, she is ensnared in a gargantuan system of arbitrary barriers and migrating goal posts. The deep and somber color palette conveys both cultural richness and the tragedy of a dream derailed.
—The New York Times Book Review

In this thoughtfully conceived picture book, Boston Weatherford centers MacNolia Cox (1923–1976), who achieved celebrity status in 1936 after becoming the first African American to win the Akron, Ohio, spelling bee, thus qualifying for the National Spelling Bee in Washington, D.C. . . a powerful, word-by-word telling of a child's personal triumph.
—Publishers Weekly (starred review)

Weatherford tells of MacNolia's experiences in concise, direct narrative, while occasionally asking a question such as, "Can you spell discrimination? D-I-S-C-R-I-M-I-N-A-T-IO-N." . . . Capturing the characters' emotions and their personalities, Morrison's vibrant oil-and-spray-paint illustrations are riveting. This moving picture book portrays a girl who met injustice with dignity and excelled.
—Booklist (starred review)

MacNolia Cox was neither the first African American child to win a national spelling contest (1908) nor the next (2021)—but she was the first even to win a spot as a finalist in all the intervening decades. . . the author pays tribute to the Akron, Ohio, eighth grader's indomitable spirit and focus as well as her love of words while recording the public excitement she caused. . . Spells out reasons to vow N-E-V-E-R A-G-A-I-N.
—Kirkus Reviews (starred review)

Morrison's illustrations capture the emotions, tenacity, and strength of Cox and her supporters while Weatherford's free verse tells the story of a young girl with a gift for spelling. . . Without shying away from the racism Cox endured, Weatherford keeps the focus squarely on the determination of the champion and her supporters for the opportunity to show her talents as a speller. . . . ­Another stunning title from a gifted pair of creators, this deserves a place in all collections as children will root for Cox and be inspired by her amazing accomplishments.
—School Library Journal (starred review)

Weatherford cleverly structures this picture book biography around the repetition of the question "Can you spell…?" . . . Smooth oil and spray paint illustrations emanate the characteristic warm richness of Morrison's art, and a balance between the neutral color palette and pops of jewel tones at key moments guides readers' emotional journey through the narrative. . . . Despite stylistic similarities to Weatherford and Morrison's other biography collaboration R-E-S-P-E-C-T: Aretha Franklin, the Queen of Soul (BCCB 07/20), this story is superb in its own right.
—The Bulletin of the Center for Children's Books

Cox is remembered for her perseverance under pressure, and both the affecting text (with its spelling-centered refrain: "Can you spell dedication?…Can you spell excited?") and brilliantly hued oil- and spray-paint illustrations portray her with dignity while reflecting the intensity of the times. An epilogue reinforces how every victory encourages others.
—The Horn Book

Acclaimed author and poet Carole Boston Weatherford and her frequent collaborator, illustrator Frank Morrison, team up yet again for this illuminating picture book about the 1936 National Spelling Bee and the African-American girl from Akron, Ohio, who almost won it. Weatherford mines all the dramatic possibilities for this story about spelling and discrimination, drawing the reader in from the first sentences. . . Morrison's magnificent illustrations, using oil and spray paints, have a somber dignity.
—The Buffalo News