Stink: Twice as Incredible (Paperback)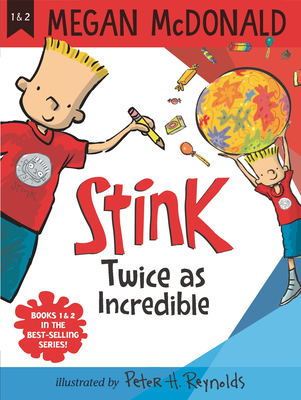 Description
---
Kick-start a Stink collection with a way-cool bind-up of his first two adventures.

Get two times the Stink in one book! Featuring:

Stink: The Incredible Shrinking Kid
Shrink, shrank, shrunk! Every morning Judy measures Stink, and it's always the same: three feet eight inches tall. Until, that is, the day the ruler reads a quarter-inch less. Can it be? Is Stink shrinking?

Stink and the Incredible Super-Galactic Jawbreaker
Spurred by a newfound awareness of false advertising, Stink Moody becomes the proverbial kid in a candy store as his letter-writing campaign yields him heaps of rewards.
About the Author
---
Megan McDonald is the creator of the popular and award-winning Judy Moody and Stink series for older readers. She is also the author of three Sisters Club stories, two books about Ant and Honey Bee, and many other books for children. Megan McDonald lives in California with her husband, the writer Richard Haynes.

Peter H. Reynolds is the illustrator of the Judy Moody and Stink books, the author-illustrator of The Dot, Ish, Sky Color, So Few of Me, The North Star, Rose's Garden, The Smallest Gift of Christmas, and Playing from the Heart, and the illustrator of many other picture books. Born in Canada, he now lives in Dedham, Massachusetts.