The World of Emily Windsnap: Shona Finds Her Voice (Paperback)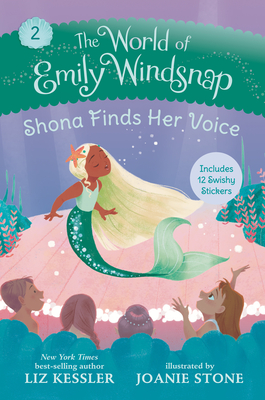 Description
---
With her best friend's help, can mermaid Shona get up the nerve to share her singing talents at school? A new reader for younger fans based on the New York Times best-selling Emily Windsnap novels.

Emily Windsnap's best friend, Shona Silkfin, is a mermaid who loves to sing . . . but only when she is by herself. So when Shiprock School announces a talent show whose winner will have the honor of meeting King Neptune, everyone is excited to perform—except Shona, who is too nervous to sign up. But when Emily overhears her friend singing, she's amazed by Shona's beautiful voice. With Emily's encouragement, Shona decides to enter the talent show—and when she anxiously takes the stage, Shona knows that her best friend is cheering her on, giving her the courage to sing loud and proud in front of everyone, even the King of the Oceans. Based on the New York Times best-selling series by Liz Kessler, this underwater adventure offers a sweet story about a confidence-bolstering friendship to new readers.
About the Author
---
Liz Kessler is the author of the best-selling Emily Windsnap series, the Philippa Fisher series, the novels North of Nowhere, A Year Without Autumn, and Has Anyone Seen Jessica Jenkins?, and a series of early readers about Poppy the Pirate Dog. Liz Kessler lives with her partner and their dog in England.

Joanie Stone spends her days painting in her studio in the country, surrounded by nature. She uses her background in animation to bring life and movement to her characters. She was born and raised in Virginia, where she still lives with her husband and young daughter.
Praise For…
---
The story is relatable and sure to resonate with young readers. Stone's artwork helps bring to life the mythical landscape of Emily's world, with soft, graceful images that take the underwater theme beyond the eye-catching covers of the original books. . . . A sweet, engaging tale whose beautiful illustrations propel young merfolk through adventure and fantasy.
—Kirkus Reviews