Always, Clementine (Hardcover)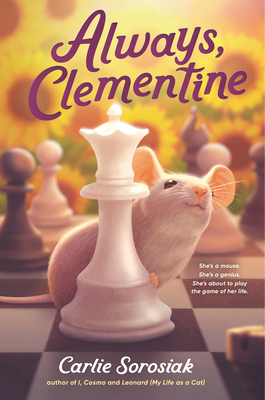 Description
---
From the author of I, Cosmo comes a humor-filled, heart-tugging tale of a genius mouse, secretly freed from a lab, who's in search of a real home—and a way to free her old friends.

Clementine is different from other mice: she can calculate the speed of light and she dreams in Latin. The scientists say she's a genius and put her through test after test. Clementine is proud of being a good lab mouse, but she's lonely. Her only snatches of friendship occur during her late-night visits with a chimpanzee named Rosie. When a compassionate lab technician frees Clementine, the mouse discovers an outside world full of wonders: Brussels sprouts, games of speed chess, television fame, and a chance for a real home. But for Clementine, it's not enough to be free when she knows that Rosie and the other mice are not. This tender, lively adventure story, narrated in letters from a mouse to a chimpanzee, shows us that goodness is something we have to define for ourselves—and that courage and wisdom aren't proportionate to size.
About the Author
---
Carlie Sorosiak is the author of the novels I, Cosmo and Leonard (My Life as a Cat), as well as the picture books Everywhere with You, illustrated by Devon Holzwarth, and Books Aren't for Eating, illustrated by Manu Montoya. She lives in Georgia with her husband and their American dingo.
Praise For…
---
Droll and delightful. . . Rollicking? Yes, plus great fun, while the broadside against lab testing on animals won't be lost on even the most naïve of readers.
—The New York Times Book Review

Serious themes lightened by comedic touches; the strong emotional attachments will linger with readers.
—Kirkus Reviews (starred review)

Genius rodent Clementine finds her purpose with the help of friends and the game of chess in Sorosiak's (I, Cosmo) heartfelt, adventure-filled tale. . . . Maintaining a strong emotional core through Clementine's voice, Sorosiak explores themes—including animal cruelty, duty, empathy, and intelligence—with a deft, light touch.
—Publishers Weekly (starred review)

This heartwarming and hopeful story is told through letters written by Clementine to Rosie as she finds her purpose in the world. Sorosiak successfully allows the reader to get to know the characters through these letters while still telling a story full of adventures and bravery. . . . The serious themes in the book are dealt with carefully and thoughtfully, making this a good choice for group discussion particularly for older readers. . . a reminder that there is a lot of goodness and friendship in the world.
—School Library Connection (starred review)

The escape-from-the-lab premise is a favorite within the animal-fantasy genre, but Sorosiak keeps it fresh in her latest endeavor. . . this sweetspirited adventure will easily find fans.
—Booklist