Gecko (Read and Wonder) (Paperback)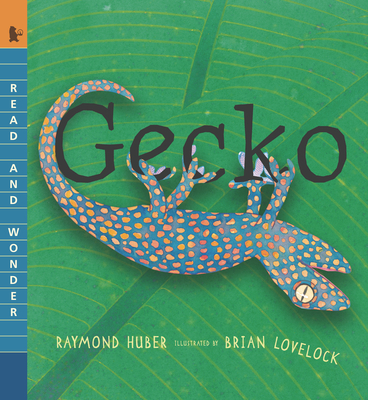 $8.99

Coming Soon - Available for Pre-Order Now
Description
---
The creators of the award-winning Flight of the Honey Bee team up again for a look at a remarkable lizard: the gecko.

Meet the gecko, the escape artist of the lizard world. Hawks, rats, and snakes would love to catch one for their dinner, but the gecko's amazing ability to protect itself and outsmart predators keeps it safe from day to day. The gecko is more than a match for its pursuers, using clever camouflage and dropping its tail as a decoy to evade them. And even beyond its escape abilities, the gecko is fascinating, with feet covered in tiny hairs for gripping (even upside down!) and eyes that it cleans with its tongue. This wonderful introduction to one of the coolest lizards on the planet will captivate amateur scientists.
About the Author
---
Raymond Huber has been a social worker, gardener, primary school teacher, lecturer, writer, and editor. He is the author of Flight of the Honey Bee, illustrated by Brian Lovelock, as well as other books for young readers. Raymond Huber lives in New Zealand.

Brian Lovelock is a scientist and painter whose books for children include Roadwork. Construction, and Demolition, all written by Sally Sutton, and Flight of the Honey Bee, written by Raymond Huber. Brian Lovelock lives in New Zealand.
Praise For…
---
Brian Lovelock's ink, colored-pencil and watercolor pictures work in beautiful tandem with Raymond Huber's text to describe the capacities of an extraordinary creature…Large type describes the doings of the amber-eyed, orange-spotted blue Tokay gecko that appears in Mr. Lovelock's pictures. Paragraphs
—The Wall Street Journal

With a wonderful economy of words, Huber offers us a gecko perspective, starting with: "Gecko peeks out of a crack in the cliff. All clear....There are many dangers in the daylight, and Gecko is on high alert." Each page includes additional information about the gecko in a different typeface. Lovelock's dazzling illustrations are done in watercolor, acrylic ink and colored pencil.
—Buffalo News