Chicks and Salsa (Paperback)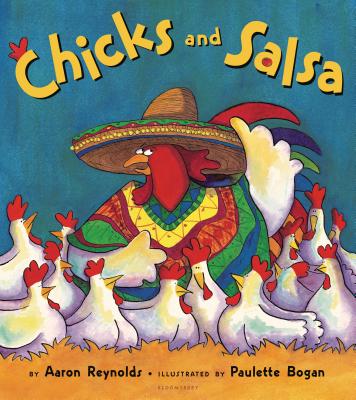 Description
---
With whimsical illustrations by Paulette Bogan, Aaron Reynolds has created a hilarious picture book about one rooster's quest for culinary delight.

What happens at Nuthatcher Farm when the chickens get tired of the same old chicken feed? The rooster hatches a plan, of course! With a pinch of genius, a dash of resourcefulness, and a little pilfering from the farmer's garden, the chickens whip up a scrumptious snack of chips and salsa. When the rest of the barnyard gets a whiff of the spicy smells and want to join in, it can mean only one thing . . . FIESTA! But when the big day arrives, all their spicy southwestern supplies are gone! It seems that Mr. and Mrs. Nuthatcher have caught on to the flavor craze as well, and the only thing left for the animals to do is to try a new culinary style-ooh la la!
About the Author
---
Aaron Reynolds is a New York Times bestselling author of many highly acclaimed books for kids, including Carnivores, Chicks and Salsa, Joey Fly, Nerdy Birdy, and the Caldecott Honor winning Creepy Carrots! He lives in the Chicago area with his wife, two kids, four cats, and between three and ten fish, depending on the day.

PAULETTE BOGAN is the author and/or illustrator of many picture books for children, including Chicks and Salsa and Goodnight Lulu. She lives with her family in New York City.
Praise For…
---
"Reynolds punctuates his wry, snappy text with the kind of knowing, running jokes that kids love, while Bogan's fiesta-bright comic watercolors evoke the spirit of vintage Warner Bros. animation (astute readers will also note that the barnyard mice seem to be the suppliers of the harder-to-find ingredients)." —Publishers Weekly

"Bogan's big cartoon scenes capture the increasing excitement, as well as the general bliss brought on by plenty of pre-fiesta snacking." —Kirkus Reviews

"This story is a fun read, with a refrain and a smooth pattern. Bogan's humorous illustrations keep the action moving, and the pages are filled with saturated color and energy. A definite purchase for any library." —School Library Journal