April & Mae and the Movie Night: The Saturday Book (Every Day with April & Mae #7) (Hardcover)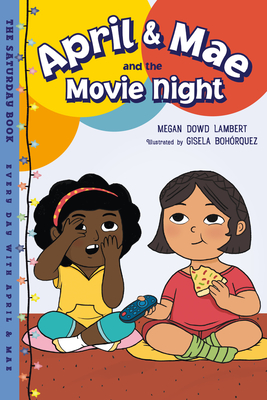 $12.99

Usually Ships in 1-5 Days
Description
---
Fans of King & Kayla and Charlie & Mouse will love this delightful beginning chapter book series that celebrates friendship every day of the week!

It's Saturday, and April and Mae are having movie night. Mae gets pineapple on the pizza because April likes it, and April chooses a scary movie because Mae will like it. When the movie ends up being too scary for April, the girls realize that they don't have to like all the same things as long as they like each other!

With imagination and humor, Every Day with April & Mae brings all there is to know and love about friendship to life in a way kids can both relate to and learn from making this a perfect fit for young readers ready to step up from picture books.

About the Author
---
Megan Dowd Lambert is the author of A Kid of Their Own, A Crow of His Own, Real Sisters Pretend, and Reading Picture Books with Children. Her experiences as a white mother of seven children in a blended, multiracial, queer, adoptive family inform her work as an author, reviewer, and educator. A former children's literature instructor at Simmons University, Megan reviews and writes for Kirkus and Horn Book; is a consultant with EmbraceRace, a community focused on race and kids; and serves on the curation team of Our Shelves, a subscription box service that features racially diverse, LGBTQ+, and feminist characters and families.

Gisela Bohórquez fell in love with drawing when her parents gave her a huge box of crayons at three years old. Born and raised in Bogotá, Colombia, she was always surrounded by her uncle Jairo's amazing books and her father's drawings. At school, she used to sell little stickers with animals she drew herself. Ever since, Gisela knew she wanted to be an artist and work with shapes and colors. She studied Graphic Design in college, where she learned digital illustration and fell in love with those techniques. She loves to put her whole heart in her work: according to her, that's the secret to connecting people with her designs. www.behance.net/GiselaBohorquez
Praise For…
---
April and Mae get together for Saturday movie night at April's house. Even though they are best friends, they do not share the same likes and dislikes. Mae brings over pizza with pineapple and pepper toppings to accommodate both of their tastes. April selects a scary movie that she knows her friend will like. Simple sentence structures, with one- and two-syllable words, make this story accessible to emerging readers ready for slightly longer stories with deeper content. The brightly colored illustrations effectively convey the range of emotions felt by the girls over the course of the evening—from joy at seeing each other to concern about the movie's content. Mae articulates the story's central theme: "Friends do not have to like all the same things... Friends just have to like each other." The characters' actions reinforce the point, but the narrative fails to address the fact that being a friend sometimes means putting the needs of the other person before your own. After trying to watch Mae's scary movie, a fearful April ends up spending part of the evening hiding under the kitchen table with Mae's cat. This seems like a missed opportunity for Mae. VERDICT The story helps children understand that best friends can have different interests, but it remains silent on the value of compromise.

—School Library Journal