Be Kind (Hardcover)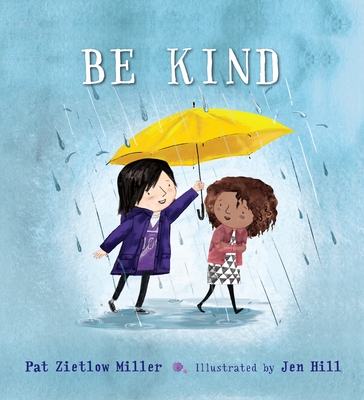 Description
---
A New York Times bestseller!

These days, it seems more important than ever for books to show young people how to act with thoughtfulness, civility, and kindness. The New York Times Book Review

When Tanisha spills grape juice all over her new dress, her classmate wants to make her feel better, wondering: What does it mean to be kind?

From asking the new girl to play to standing up for someone being bullied, this moving story explores what kindness is, and how any act, big or small, can make a differenceor at least help a friend.

With a gentle text from the award-winning author of Sophie's Squash, Pat Zietlow Miller, and irresistible art from Jen Hill, Be Kind is an unforgettable story about how two simple words can change the world.

One of Chicago Public Library's "Best of the Best Books 2018"
About the Author
---
Pat Zietlow Miller knew she wanted to be a writer ever since her seventh-grade English teacher read her paper about square-dancing skirts out loud in class and said: This is the first time anything a student has written has given me chills. (Thanks, Mrs. Mueller! You rock!) Pat started out as a newspaper reporter before she joined an insurance company as an editor. Now, she writes insurance information by day and childrens books by night. Her first book, SOPHIES SQUASH, won the Golden Kite Award, an Ezra Jack Keats New Writer Honor and a Charlotte Zolotow honor. Her second book, WHEREVER YOU GO, won a Crystal Kite award. Pat has one wonderful husband, two delightful daughters and two pampered cats. She doesnt watch much TV, but she does love Chopped.

Jen Hill is the illustrator of several picture books, including Diana's White House Garden by Elisa Carbone, Spring for Sophie by Yael Werber, and Doing Her Bit by Erin Hagar; and is also the author and illustrator of Percy and Tumtum: A Tale of Two Dogs. She is a graduate from the Rhode Island School of Design and lives in Brooklyn, NY with her husband and her intern, Little Bee, who is very helpful for a cat.
Praise For…
---
These days, it seems more important than ever for books to show young people how to act with thoughtfulness, civility, and kindness. The New York Times Book Review

[A] lovely exploration of empathy and thoughtfulness. Publishers Weekly, starred review

The precisely worded, hopeful text offers ideas to ponder, while the artwork places them within kidfriendly contexts, such as a multiracial classroom and a neighborhood park. Nicely designed for drawing out childrens ideas and opening a discussion on kindness, this picture book works well one-on-one or read aloud in a classroom, for the expressive pictures are still effective from a distance. A thoughtful picture book. Booklist

This picture book champions interpersonal kindness both globally and in a young child's town . . . The story gives children many concrete ideas of actionable kind deeds. Kirkus Reviews

The book presents the powerful message that small acts of kindness matter, and that they can build with other acts of kindness to make a difference . . . A valuable addition on this topic [that] will promote conversation about what it means to be kind. School Library Journal

Sophie's Squash:

A Golden Kite Award Winner
A Charlotte Zolotow Honor Book
An Ezra Jack Keats Honor Book
The Juvenile Literature Award Winner
A Crystal Kite Award Book for the Midwest Region

"[T]his tale will be cherished by children, and their parents will be happy to read it to them often." School Library Journal, starred review

Wherever You Go:

A Crystal Kite Award Book for the Midwest Region

Miller's verse, infused with musical momentum, communicates the emotional arch of a journey with beautiful brevity. Kirkus Reviews, starred review

This lovely offering [has] appeal both as an inspirational gift book and as a bedtime tale. Publishers Weekly, starred review

Sophie's Squash Go to School:

While in many picture books problems are solved quickly, Miller makes clear that it takes time, as well as reflection and effort, for Sophie to decide that she wants friends. . . . Many children will relate to [this]. Booklist, starred review

By books end, most readers will be willing to side with Sophies parents, who remind her that its good to have friends: Especially human ones. Publishers Weekly, starred review

The Quickest Kid in Clarksville:

Sweet and inspiring. Kirkus Reviews

An engaging, lively story. Horn Book