Twelve Days in May: Freedom Ride 1961 (Hardcover)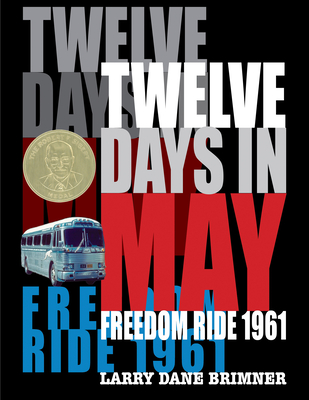 Description
---
A 2018 Robert F. Sibert Informational Book Award Winner

On May 4, 1961, a group of thirteen black and white civil rights activists launched the Freedom Ride, aiming to challenge the practice of segregation on buses and at bus terminal facilities in the South.
The Ride would last twelve days. Despite the fact that segregation on buses crossing state lines was ruled unconstitutional by the Supreme Court in 1946, and segregation in interstate transportation facilities was ruled unconstitutional in 1960, these rulings were routinely ignored in the South. The thirteen Freedom Riders intended to test the laws and draw attention to the lack of enforcement with their peaceful protest. As the Riders traveled deeper into the South, they encountered increasing violence and opposition. Noted civil rights author Larry Dane Brimner relies on archival documents and rarely seen images to tell the riveting story of the little-known first days of the Freedom Ride. With author's note, source notes, bibliography, and index.
About the Author
---
Larry Dane Brimner is the recipient of the 2018 Robert F. Sibert Award for the most distinguished informational book for children for his title Twelve Days in May: Freedom Ride 1961. He is known for his well-researched, innovative, and award-winning nonfiction for young readers, and is the author of multiple acclaimed civil rights titles, including Strike!: The Farm Workers' Fight for Their Rights; and Black & White: The Confrontation between Reverend Fred L. Shuttlesworth and Eugene "Bull" Connor.
Praise For…
---
★ "An engaging and accessible account…Brimner… presents a straightforward narrative approach to the subject that will appeal to readers. The stark, black-and-white design of the text emphasizes the directness of the prose, while the riveting, full-page photos and descriptive captions enhance the reading experience….(a)n essential part of civil rights collections and a worthy addition to all nonfiction shelves."  -- School Library Journal, starred review
 
★ "Brimner, whose books on the civil rights era include Birmingham Sunday (2010) and Black and White (2011), presents a tightly focused, present-tense account of what happened during the May 1961 Freedom Rides. Presented on spacious pages with striking design, the many large, archival black-and-white photos transport readers back in time. While the introductory and concluding sections offer helpful summaries of four major Supreme Court rulings on segregation from 1896 to 1960 and short biographies of the 13 Freedom Riders, the heart of the book is its straightforward, concise, day-by-day reporting of the journey. A memorable presentation of inherently dramatic and historically significant events." – Booklist, starred review
 
"Sibert Honor-winning author Brimner (Black and White, 2011) explores the first "Freedom Ride" in May 1961… Brimner does an excellent job giving the necessary context for the events, and the day-by-day focus provides dramatic tension for the narrative. Useful backmatter includes biographical sketches, bibliography, source notes, index, and picture credits. Richly illustrated with period photographs and strikingly designed, this is a clear, accessible depiction of a major story in the civil rights movement." – Kirkus Reviews
 
"A superb overview of Freedom Summer, Brimner's merger of history with photographs imparts the drama and significance of the Freedom Ride of 1961. A powerful message about daring and persistence… Crucial to the even-handed writing of the text is a controlled tone, free of unnecessary accusations and sensationalism… Brimner's organization of print, video, and website source material…stress to young readers the elements of bias-free research. An essential addition to public and middle school libraries, the gripping history of the Freedom Summer promotes understanding of a turning point in U.S. race relations." – VOYA
 
"Readers will get a true sense of the violence and fear that the riders were subject to the closer they got to their destination. Thanks to well-placed b&w historical photos, the discrimination, confrontations, and violence surrounding this Freedom ride are clearly depicted. Simply written, the text succinctly describes the events of the trip…This volume will serve as an excellent resource on this historic event and its participants." – School Library Connection
 
"Using a straightforward, present-tense narrative and a diary-style format…(t)his (is a) well-researched and accessible account of a precedent-setting protest." – Publishers Weekly
 
"Brimner's presentation—with its oversized trim and photographs, and its dramatic black and white layout—is well suited for readalouds and use by readers of diverse ages, reading levels, and backgrounds. (T)his title should spring off the nonfiction shelves and into the attention of middle-school readers." – The Bulletin of the Center for Children's Books  

"Brimner's narrative summarizes and recounts the highlights of those violent, turbulent days, but the main attraction of this book is its photographs. A striking and spacious book design with black-and-white images provides immediacy." - The Horn Book Magazine