Words That Built a Nation: Voices of Democracy That Have Shaped America's History (Hardcover)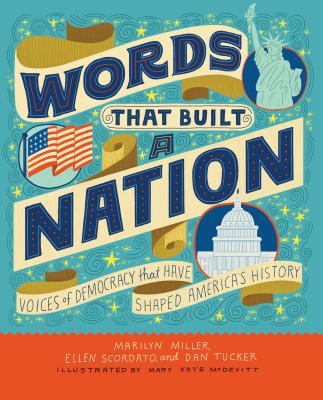 Description
---
The ultimate tour of United States' most inspiring speeches, quotes, and leaders—the perfect gift for kids who love history and want to make a difference in the future.

Together in one essential collection, this selection of the United States' most important historical documents and speeches immerses kids in the ideas and words that have shaped American democracy. Now, this young history lovers must-have gift has been revised and revamped for the 21st century. From the Gettysburg Address to the 2015 Supreme Court ruling on same-sex marriage, this updated edition introduces the landmark statements and moments that are impacting our nation today.

With powerful illustrations important background information and context, Words That Built a Nation is an up-to-date and breathtaking look at U.S. history.
About the Author
---
Marilyn Miller is a freelance writer and editor in New York City. She received her degree in history and completed graduate work in American history.

Ellen Scordato is a writer and editor as well as the author of four young adult and children's nonfiction titles in American history and pop culture.

Dan Tucker is a writer and editor living in Brooklyn. He is the founder of Sideshow Media, a New York–based independent producer of content focused on history, the arts, pop culture, and travel.

Mary Kate McDevitt is an illustrator, lettering artist, and author based in Philadelphia. She has created hand lettering for clients including Target, Chronicle Books, Smuckers', and Macy's, and is the author of several books including Hand-Lettering Ledger, Illustration Workshop, and Every Day is Epic. She also teaches at her alma mater, Tyler School of Art, and is the co-owner of Okay Fine, a studio that hosts workshops and sells and displays work from local designers.
Praise For…
---
"Forty-one speeches, letters, and other documents deemed significant in this country's history, wrapped in succinct explanatory notes and glosses....glimpses of this country's complicated history and character...illuminate its tapestry of divisive issues and unifying ideals.:--Kirkus Reviews