Caterpillars: What Will I Be When I Get to be Me?: TOON Level 1 (Giggle and Learn) (Hardcover)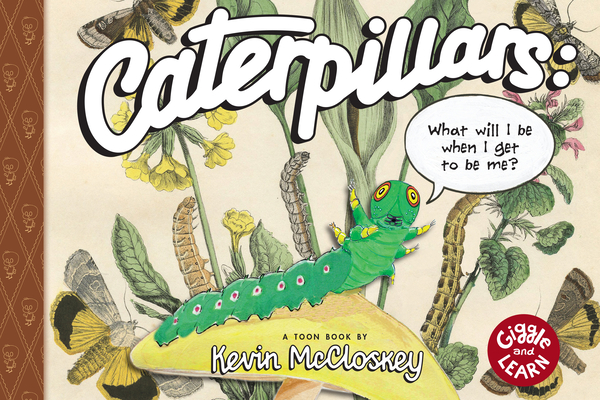 Description
---
Is it a worm? Is it a snake? No! It's a caterpillar . . .

. . . and it's on its way to one of the most magical transformations in the insect world, from a crawling digestive tube to a fluttering glasswing, luna moth, or monarch on its journey across thousands-of-miles. In the latest addition to KEVIN MCCLOSKEY's beloved Giggle and Learn series, young readers will explore how caterpillars morph into the many different moths and butterflies that help pollinate our world. Growing up is scary, but caterpillars can lead the way!
About the Author
---
When Kevin McCloskey was seven years old, he loved to ride his bike, paint pictures, and tell stories. Then Kevin grew up and became a college professor. He taught art and illustration at Kutztown University for thirty years. Now he's retired and the author of the critically acclaimed TOON Books "Giggle and Learn" series. His first TOON Book, We Dig Worms, was described as "a winning combination of facts and gross-out fun" by The New York Times. His wife (a librarian!) had asked for a fun worm book to read at the library, so he came up with an informative and silly story that evolved into a now beloved series of six. To this day, he still loves to ride his bike, paint pictures, and tell stories.
Praise For…
---
 "A multilayered, richly illustrated examination of a familiar crawling creature, yielding new pleasures and perspectives with each turn of the page." —School Library Journal

"A small, snug, humorous work that uses comic-book conventions to get its nonfiction ideas across." —WSJ

"[McCloskey's] endearing cartoon images of various kinds of caterpillars will give young readers good cause to join two budding investigators [...] in learning about eggs, instars (or stages), anatomy, cocoons, and chrysalises on the way to witnessing in sequential views a set of marvelous transformations."—Kirkus Reviews